10 March 2016

Lena Hoschek Tradition SS16 campaign references recreation in mountain nature
Instead of swimming in a pool, why not walking in the mountains this summer? When it's getting too hot in the city and its public swimming environments, the mountains of the Austrian alps are used by many for recreational reasons; especially walking from hut to hut is a beloved activity such as recently described in a story (English, German) at the new magazine published by the travel guide website 'Austria.Info'. Well, not everybody can walk over longer distances; but bicycles or horses can be used alternatively.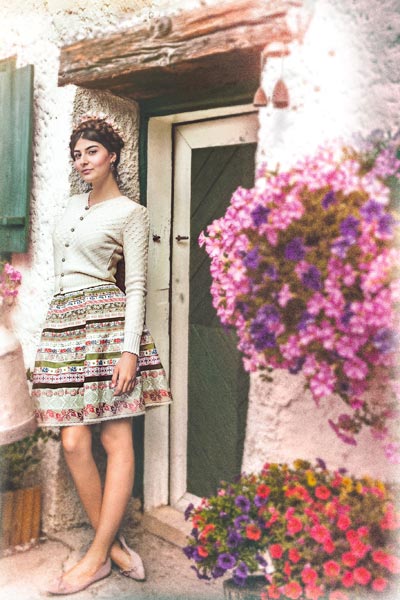 These days, the mountain experience season has started again and Austrian label Lena Hoschek references this nature facing lifestyle at her current Spring/Summer 2016 campaign with images and text about trips to colorful meadows and mountain huts for a 'Brettjausn' (ham, cheese... served on a wooden plate; on view below). The images of the 'Tradition' line evoke the impression of 50ies tale book illustrations or movie set pictures. The campaign's retro touch fits well to the philosophy of the 'Tradition' line which is dedicated to new interpretations of the heritage of alpine clothing items such as the 'dirndl' (a dress with wide skirt and narrow top) or 'trachten' vests and jackets. Very nice is even the name of some of the pieces like the ribbon skirt (on view right): the skirt carries the name 'Rosegger' after the Austrian author of stories which play in the alps - especially in Styria, Peter Rosegger.
fig.: Lena Hoschek Tradition items on view on this page: Creme colored 'Soferl' vest with ribbon skirt 'Rosegger'; image below, 'Alma' dirndl with 'Villach' dirndl blouse; right, 'Wally' dress in the blue color 'cornflower'. The photos of the Spring/Summer 2016 campaign were shot by Lupi Spuma; © www.lupispuma.com.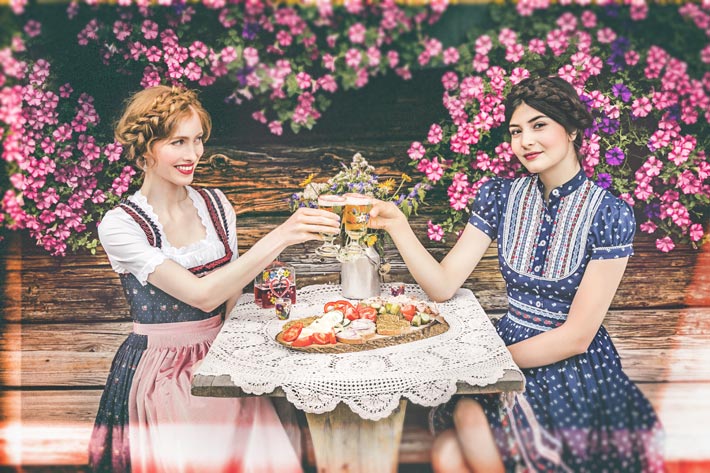 more collections>