9 May 2016

Lena Hoschek turned into an interior designer for her label's new flagship store in Vienna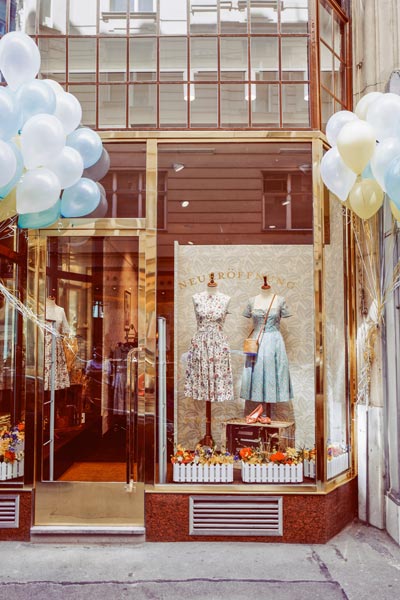 Recently on 29 April, Austrian designer Lena Hoschek opened her first flagship store in Vienna. It's currently the brand's third store alongside to shops in Graz (Styria) and Berlin. The two floor, 200 square meters salon is located nearby St. Stephen's Cathedral in the first district of the city at Goldschmiedgasse 7a.
Lena Hoschek is known for her interpretations of the traditional Austrian tracht and dirndl (originally from the Alps region) for everyday wear and festive clothing. Additionally to the 'Tradition' line, the label presents each season a couture inspired ready-to-wear collection; Spring/Summer 2016 'En Provence' is elaborated from authentic archive material concerning French textile culture and easy-going glamour of actresses like Romy Schneider or Jane Birkin. The third Lena Hoschek line is 'Atelier' where tailor-made bridal wear and festive gowns are designed and produced individually for customers; 'Atelier' chief designer is Thomas Kirchgrabner.
Lena Hoschek's concept of the store's interior fits to the label's re-interpretations of (life-)styles of former generations; the vintage lightning and wallpapers were created after original designs of former decades and pay homage to the glam of the golden times of Hollywood. The interior is designed by Lena Hoschek herself; even for the store-music (from original vintage radios with modern sound equipment), she contributes her own favorite tracks.
Photos: (C) Atelier Karasinski/Lena Hoschek. More photos on Facebook.