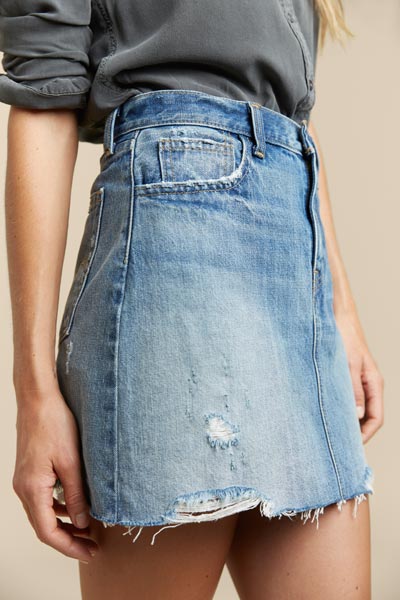 7 January 2016

Highlights of the Levi's Spring/Summer 2016 collection under the creative direction of Jonathan Cheung
...are comfortable shorts and the 501 skirt in A-line (on view on this page); the A-line makes think of the jeans-cut-and-sew-together-again recycling method of the 70ies. It's not known who the first person (probably a woman) was who had the idea to up-cycle denim jeans into an A-line skirt or shorts but creative references to vintage recycling methods are in fashion this year again. The skirt is one of the highlights of the new Levi's 'Wonderland' Spring/Summer 2016 collection which pays with its bohemian style homage to the Laurel Canyon in the Hollywood Hills in Los Angeles and the artists, musicians, architects who settled here during the 60ies and 70ies. Wonderland is the name of an important avenue in Laurel Canyon. What happened during this time in the region was according to Jonathan Cheung, Levi's Senior Vice President Design, an artistic revolution which changed the world.
Video: Recently, Jonathan Cheung was portrayed by one of Europe's largest online shops Zalando at his new hometown (bio) San Francisco. At the video, the designer provides insights into his sources of inspiration: "A designer's job," he says, "is to understand people, and the better we understand people, the better designs we will make."