26 February 2016

Authentic jeans styling by users and professionals, seen at the Live in Levi's project 2016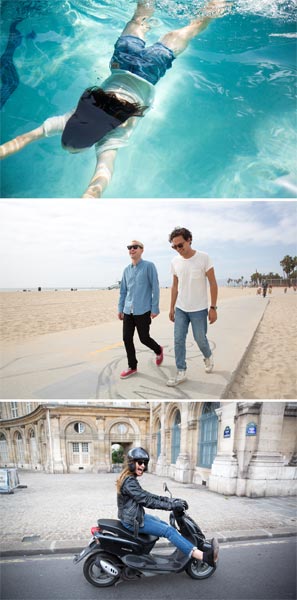 The social media project 'Live in Levi's' was founded in autumn 2014 and gets around each half year a slightly new direction such as this spring with the motto 'We Are 501' and the selected protagonists. Last February 2015, Levi's featured eight musicians as representatives of Live in Levi's. This year, three protagonists provide exemplary material how the own presentation via Instagram under the hashtags #501 und #LiveInLevis can look like. They are from the fields multimedia art, music and writing, modeling; each of the three representatives introduces into the own lifestyle with insights into the work and thoughts about the own fashion style with video as well as photos such as the first image on this page of Chinese multimedia artist Yi Zhou swimming in Levi's shorts in a pool, at the picture in the middle, the electronic music duo Classixx (Michael and Tyler) walk along the beach in Southern California, and music producer, writer and model Caroline de Maigret presents herself with an image on the scooter through Paris. These are only three pictures of a series of insights into the protagonists' lifestyles.
Fashionoffice looked through the public gallery of Levi's to find out how the social media project is used. The gallery consists of photos which were uploaded via Instagram by fashion professionals (bloggers, stylists,...) and users from other fields (music, engineering,...). The images are very multifaceted - some of them are typical snapshots, others have the appeal of professional blogger and photographer work. They are unified visually by one theme: authentic styling of Levi's items, especially jeans. The gallery is published on liveinlevis.com.