24 August 2016

Colmar presents new technologies and styles with one of the label's ambassadors freeskier Luca Tribondeau
Since almost a century, the Italian label Colmar invests into the technological innovation of sportswear and collaborates with sport champions and Olympians; the company was founded 93 years ago in 1923 and has already co-written the history of sports - especially snow sports. In the 1930s, the brand produced an inflatable cape for a speed skier for example!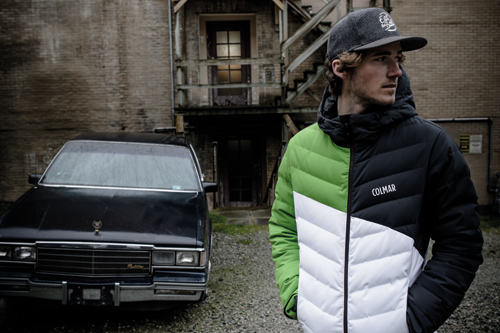 For the upcoming Winter collection, Colmar continues its strategy and presents under the title 'Welcome to the new era' textile and clothing innovations for Ski Alpin, Freeride, Outdoor together with lifestyle images showing protagonists like freeskier Luca Tribondeau who is one of the ambassadors of Colmar. The team member of the Austrian Ski Association (ÖSV) has just started the training in snow again; watch him 'flying' down the slope in a video.
fig.: At the Colmar Winter 2016 campaign, Austrian freeskier Luca Tribondeau wears the green, black, white jacket 'Greenland'. The jackets of the collection are named after famous ski resorts, regions and champions. The technological features of the new collection were already presented at ISPO earlier this year; find more information about the technological aspects of 'Welcome to the new era' on colmar.it. Photo by Alessandro Belluscio; (C) Alessandro Belluscio / Colmar.


more collections>