4 September 2016

Looking back to the origins of online retailer Madeleine and forwards to the new collection F/W 2016/17
Online shops aren't pioneer fields anymore. Today, new collections are offered at the online shop in time with the presentation on the catwalk. Twenty years ago, it was usual that haute couture and pret-a-porter collections were presented in front of selected journalists who were bound to publication embargos. Nowadays, the first hints or views drop already as teasers or available ready-to-wear shop items before the runway show happens or the official store launch. Haute couture is until today not predestined for digital trade nor is it the so-called 'fast fashion' (associated with very cheap clothes) as the relation of the costs for transaction and income doesn't pay.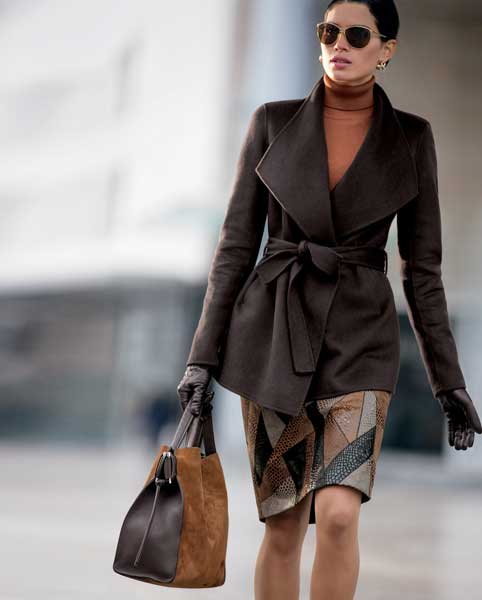 The European online, catalogue and boutique retailer Madeleine (available in UK, DE, AT, FR...) neither belongs to haute couture nor fast fashion. The style of Madeleine can be described as almost timeless elegant women's wear made of quality materials; as ready-to-wear with a touch of luxury. It's not only the combination of these factors which make Madeleine since many years successful in online retailing (since 2001); the company had the best credentials for e-commerce. Madeleine started in the late 1970s as catalogue reseller; the slogan of the first catalogue was 'Exclusive Fashion' - and Madeleine presents also this season a new collection in the brand's signature style.
fig.: For Fall/Winter 2016/17, Madeleine offers easygoing business wear such as on view at the image. For the shop, the items like the leather skirt in patchwork design, the pure wool jacket, pullover, gloves, sunglasses and bag are styled as recommendation and starting point to navigate through the single pieces' closer descriptions. At the shop, the items are arranged in an own navigation beside this styling photo. Probably it's the experience of almost 40 years which makes the Madeleine shop so well-ordered.


more collections>