22 August 2016

Vienna-based 'neubau eyewear' presents new models and global culture magazine 'The Frame Of Mind'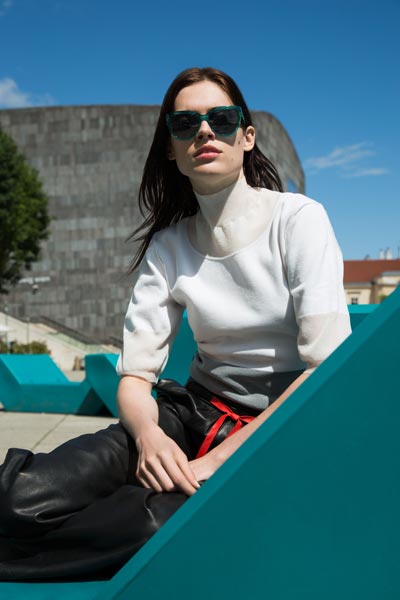 In June, the international launch of 'neubau eyewear' happened in Vienna. The city is the name giver of the brand: 'Neubau' is the name of the 7th district which is known as one of Vienna's creative hubs; probably (without checking the statistics), it's currently the district where the most Viennese companies that are counted to the so-called creative industries (fashion, graphics, film, photography, art, etc) reside and where a high amount of concept- and design-stores can be found. The 'Neubau'-environment with its intellectual atmosphere is reflected in the design which can be described as a modern view on classical styles such as the opticals 'Sigmund' (just like Sigmund Freud; eyewear depicted below). The form of the frames reminds classics with origins in the first half of the 20th century (and only to mention it: the glasses are similar to the ones the father of psychoanalysis once wore). One of the trends at neubau eyewear is the 'Crystal Clear' transparent material for frames which are used for several optical models; the first collection of sunglasses will be available from October.
fig.: The 'Diana' sunglasses are from the first neubau eyewear sun collection. Below: 'Sigmund' eyewear in transparent 'Crystal Clear' and 'Black Coal Matte'. (Available from October 2016.)
For neubau eyewear, people are more important than the location. The 7th district in Vienna is comparable to other creative hubs worldwide; the people who work and live at a location make the atmosphere. Recently, neubau eyewear published at the own global culture magazine 'The Frame Of Mind' an article with images and video about the collaboration with Rochambeau (won this year's Woolmark Prize for US) on occasion of the men's wear label's SS17 show at New York Fashion Week: Men's. In an interview with Vogue.com, Rochambeau's Laurence Chandler summarizes the concept of the collection: "Creatives in exile".