12 March 2016

Philippe Starck's flip flop collection for Ipanema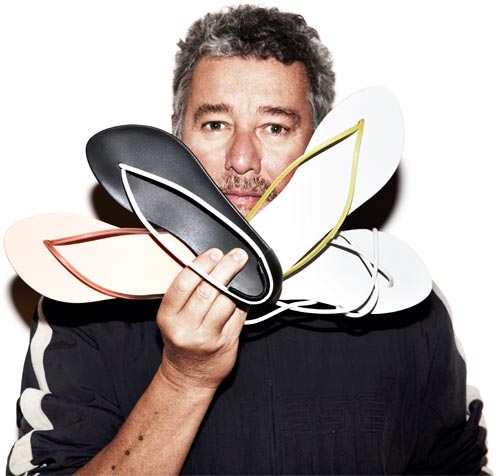 French designer Philippe Starck is active in various fields - architecture (hotels, shops...), furniture and household goods (Starck's iconic lemon squeezer is probably one of the most bespoken squeezers in design history) or fashion (Wolford, Puma...), and is known for the creation of timeless objects in minimalist design. The latest project at Philippe Starck's website at the category Industrial Design - Apparel, Accessories and Perfume is the Spring/Summer 2016 collection for the Brazilian flip flop label Ipanema.

fig.: Portrait of Philippe Starck with selected flip flops of the 'Ipanema with Philippe Starck' Spring/Summer 2016 collection.
Image below: The collection consists of four models; each is available in twelve colors; on view, the elegant model 'Thing U' in two color variations white/pink and black/black.
The 'Ipanema with Philippe Starck' shoes are 100% recyclable and made of 30% recycled material; they are partly made by hand (fixture of the strap on the sole). Earlier this year, the range was released online and in stores worldwide and is available at special fashion, design destinations like Alchemist in Miami, Colette in Paris and 10 Corso Como in Milano.