14 October 2016

Vienna Insight: Red Wing Shoes store opening
Yesterday, 'Arnold's' fashion store owner Jakub Arnold invited to the opening of his new 'Red Wing Shoes Store' at Lerchenfelder Strasse 65. Arnold counts to the fashion and creative scene of the 7th district 'Neubau' in Vienna. Like it's usual for metropolitan environments, several city districts are associated with distinctive lifestyles. The lifestyle at district 'Neubau' could be summarized as 'Innovation grounded on Tradition'. Under this definition, Jakub Arnold's store range and activities can be seen representative for the Neubau style. With the new 'Red Wing Shoe Store' at Lerchenfelder Strasse, Jakub Arnold expands the Neubau fashion zone (centers mainly around streets like Neubaugasse, Siebensterngasse, Kirchengasse) for approximately a half kilometer (500 meters flight line) to the north to Lerchenfelder Strasse.
fig.: Jakub Arnold, store owner of Arnold's, at the opening of the new 'Red Wing Shoe Store' on 13 October 2016 at Lerchenfelder Strasse 65 in Neubau, Vienna. The shoes are showcased on raw wood shelfs. The boot left (the Red Wing Boot 877) behind Jakub Arnold is an iconic motorcycle boot which was worn for example by Steve McQueen in the 70ies for motorbike races (photos). Red Wing Shoes (history) was founded 1905 by shoe merchant Charles Beckman who realized his ideas for footwear for industry workers. The shoes were available most of the time as unisex models (down-sized for small women's feet); only in the 1920s and 30s, Red Wing produced special women's shoes and since this season, the unisex collection is accompanied by a range dedicated to women. The most significant differences between the male and female designs are softer leather and lighter materials of the women's models.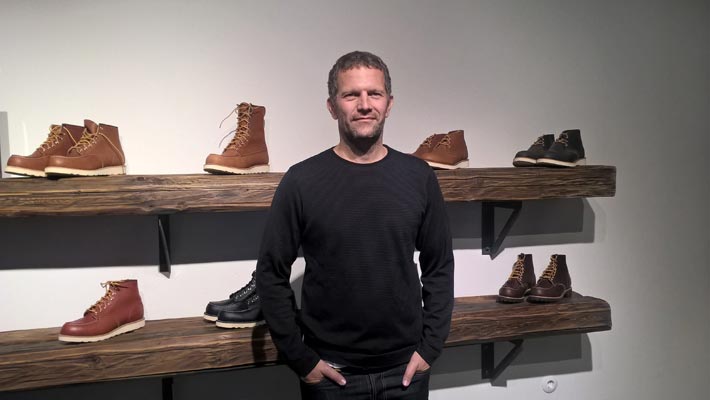 fig. below: At the store, several heavy used shoes are arranged in between or at a work bench (image below right). Some of the older models are from the 1970s. The used shoes originate either from the Red Wing Shoes museum or from private shoe collections of customers who still wear them but brought them for repair. Another benefit alongside to durability is that the soles can be renewed with original material via the store. It can take a while until the soles are used up; depends on the wearer's activities.