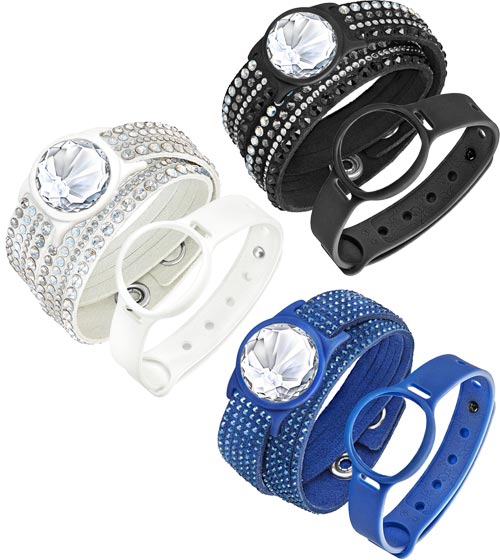 31 January 2016

Swarovski's smart jewelry measures fitness progress
Recently, the Swarovski 'Activity Tracking Jewelry' collection was launched in Europe. The jewelry label released the tracking-bracelet with crystal stone which is equipped with smart technology (measures steps, distance, sleep quality, calories) first in US, China and Hong Kong. The designs of the collection reach from sportive flash-blue over crystal-white to night-black - or (not on view on this page) silver-grey or rose-pink. The idea behind the diverse designs of different colors of stones and Alcantara bracelets is to change the style of the smart-jewelry matching to the situation and outfit. The smart technology (developed in collaboration with fitness tracking specialist Misfit) is carried by the 'Slake'-bracelet (black, white or blue). By touching the crystal, the integrated LED screen shows time and fitness progress. The data can be connected via smartphone for further processing like a food-diary.
The Swarovski 'Activity Tracking Jewelry' was introduced with a video showing Miranda Kerr through the day while gymnastics in sports clothing, in comfortable day and glamorous evening wear - always with matching bracelets.