1 August 2016

Abstract collage by street artist Tristan Eaton on yoga leggings, bra-top and short by Reebok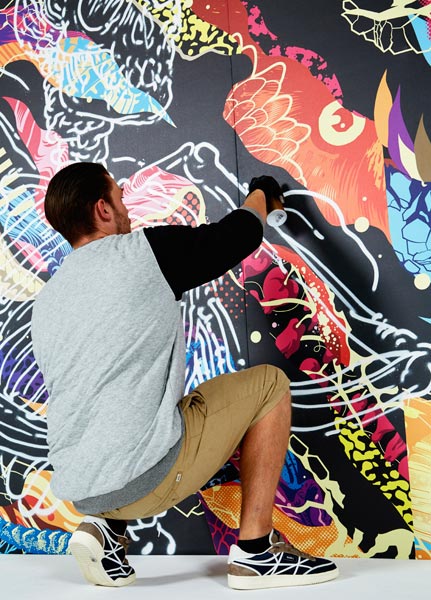 Recently, the 'Reebok x Tristan Eaton' collection of yoga apparel pieces (leggings, bra-top, short) was released. Model of the campaign is online influencer Jasmine Sanders (aka @Golden_Barbie) who presents the items in front of the painting by Tristan Eaton (image below). The street artist is known for his collages which function like time-capsules containing different style periods and memories over decades. For Reebok, Tristan Eaton created a combination of abstract patterns which consist at a closer look of various graphical methods such as halftone dots of the 60ies (often used at that time by artists like Roy Lichtenstein), 90ies computer-keyboards referencing graphics, or watery camouflage patterns, animal prints, floral details, the wild eye of an animal, fruits... At the image below on view is the layering of white lines that form left a skeleton which appears like a classical reminder that the end of all life is death (vanitas symbol).
Earlier this year, Tristan Eaton made a mural at the Reebok headquarters in Canton (Massachusetts, US). A picture of the mural with the writing 'Be More Human' can be found on Eaton's Instagram. 'Be More Human' is Reebok's motto for several activities; in mid-July, the fitness brands released the 'Be More Human' #PerfectNever chapter with athlete Ronda Rousey who speaks in interviews and the campaign video about the illusion of perfection and unrealistic standards. "When I was older I realized that what is really attractive is not only what's in magazines,..." says Ronda Rousey in the Behind the Scenes #PerfectNever interview.
fig. right: The image shows Tristan Eaton in front of his painting for the art inspired 'Reebok x Tristan Eaton' FW2016 collection.
fig. below: Jasmine Sanders (aka @Golden_Barbie) in 'Reebok x Eaton Design' in front of the painting by Tristan Eaton.