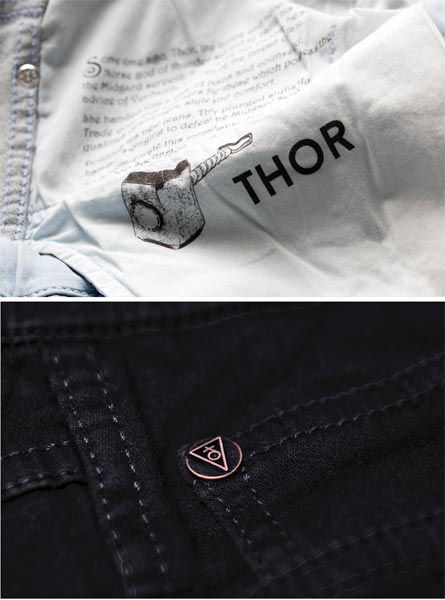 18 January 2016

The story of Thor and Odin's ravens interpreted as urban sportswear inspired men's jeans
The two new models of the men's 5-pocket jeans by Vienna-based label Verdandy reference the story of Odin's ravens. They are entitled 'Thor Night/Fire' (with red threads on black denim) and 'Thor Night/Raven' (black on black; last mentioned on view on this page). The background of the raven story: God and shaman Odin was the father of Thor. On his travels (and he travelled daily to keep an eye on the world), Odin was accompanied by his prominent two ravens which were a sort of extension of his sensual organs - they gave him the power to hear and see far in the distance; Odin was also a seer.
The label 'Verdandy' with its logo and the print 'Thor' at the pocket lining of the jersey-denim jeans is derived from Norse mythology. Martin Pichler and Manuel Rauner are the minds behind the comfortable jogging pants inspired jeans designs and distribution concept which started from the beginning (end of last summer) with international delivery via verdandy.com. The jeans are already available at stores such as at the 'Welcome' fashion shop at Airport Vienna.
Photos: Konstantin Reyer.