20 January 2016

Silhouette presented together with US fashion designer Wes Gordon the collaborative sunglasses collection during Berlin Fashion Week
Yesterday on the 2nd day of Berlin Fashion Week (18 - 22 January), Wes Gordon attended the presentation of the collaborative 'Wes Gordon for Silhouette' sunglasses collection at Soho House in Berlin (images below). The round sunglasses in happy and light colors Nude Brown, Classic Grey, Classic Green and Ocean Blue (last mentioned is Wes Gordon's favorite color) premiered last September on the Wes Gordon catwalk in New York together with the label's Spring/Summer RTW pieces made from straight lines, transparent details and with the special 90ies understatement which initiated the combination of classical fashion, couture and streetwear as people are common to wear nowadays on occasion of various urban situations - from business to after-work and in between.
At the video, Wes Gordon introduces into the sunglasses collection and points out the two layer technology on a single piece of glass which is colored in a more intense tone at the edge. Wes Gordon studied at Central Saint Martins University of Art and Design in London and received already recognition by the industry such as by the CFDA/Vogue Fashion Fund (finalist) or Swarovski (sponsorship). The new sunglasses collection was developed together with the Silhouette design team at the headquarters in Linz (Austria) from the label's very light 'Titan Minimal Art' model.
Yesterday after the event, Silhouette spread some images directly from Berlin. Find two of them on this page.
fig. from left: Wes Gordon attended the launch of the Silhouette collection designed by Wes Gordon during Mercedes-Benz Fashion Week Berlin A/W 2016 at Soho House on 19 January 2016 in Berlin, Germany. Image right: The four models of the 'Wes Gordon for Silhouette' sunglasses collection which is available worldwide at opticians and fashion stores from the end of January 2016. Photos by Franziska Krug/Getty Images for Silhouette. (C) 2016 Franziska Krug.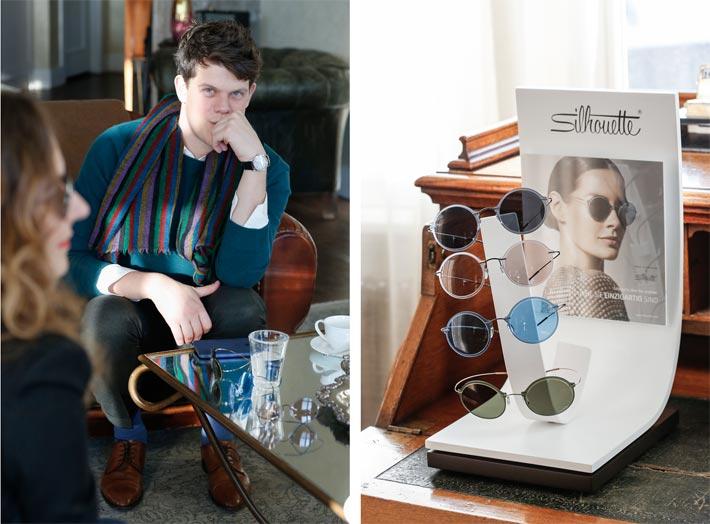 more collections>