4 October 2017
Adidas Speedfactory produces shoe series designed after the research on runner demands in London, Paris, New York, Tokyo,...
The first shoe from the adidas made for a city running shoe series will be the AM4LDN, the adidas Made For London shoe; the release countdown is published on adidas.com/speedfactory.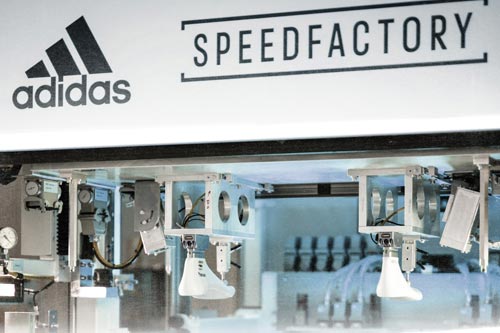 The adidas made for (AM4) a city designs are backed by the company's Speedfactory facility where robots support the manufacturing process as well as the research on consumers' running behaviour. The combination of both - automated manufacturing and data-driven design development, allows in future individual creations for personal needs; the aim is the production of tailored running shoes in short time. Currently, the shoes are produced at the Speedfactory in Ansbach (Germany) which will be joined soon by a second facility in Atlanta (USA).
For the AM4LDN, adidas incorporated specific demands of runners in London. The release of the running shoe series was announced today and attracted already publications like Quartz where differences of London and New York runners are mentioned.
Adidas Made For Paris AM4PAR (launch on 26 October), Los Angeles (AM4LA), New York (AM4NYC), Tokyo (AM4TKY) and Shanghai (AM4SHA) will follow.