30 January 2017

Fashionoffice spring 2017 tip: Cosmopolitan Style
At the end of January, people are planning their spring holidays and prepare for travels around the globe; so far it's currently possible. Destinations such as Austria are relatively uncomplicated to access with valid documents; even when the borders are under stronger control than one or two years before. While the frontiers between the countries have become more visible, the connecting characteristics of a modern world and the confession to a global, peaceful society are growing. Fashionoffice collected several pieces for the 'Cosmopolitan Style' - some of the items are already available.
(Description of the pieces below.)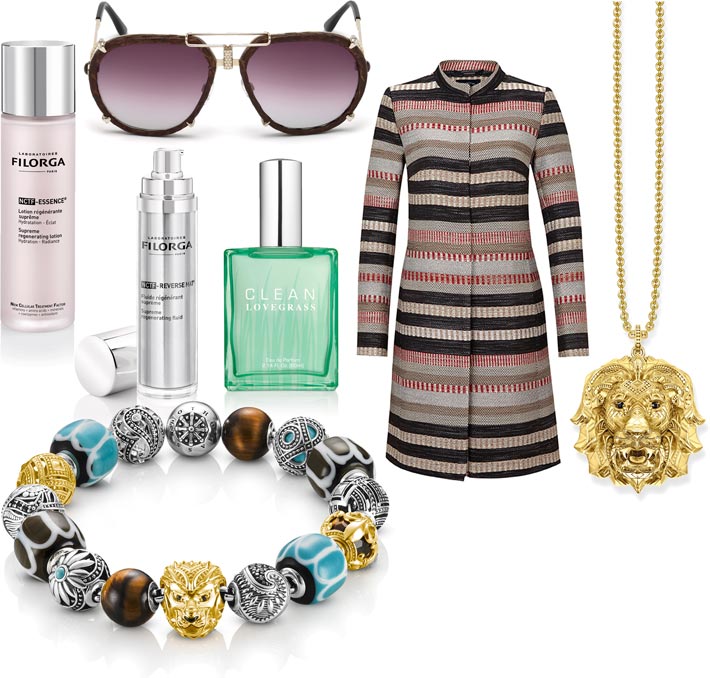 fig.: The 'Karma Beads' bracelet and necklace with 'Lion' pendant are from the 'Africa' Spring/Summer 2017 collection by Thomas Sabo (founded 1984 and available on five continents). The jewelry series is inspired by people from Africa and African culture which are the basis for design codes that were developed over hundreds of years, explained Thomas Sabo Creative Director Susanne Kölbli the idea behind the first ever Thomas Sabo collection which is contributed to the cultural stylistics of Africa. The pieces refer with representations of maps, fauna (lion - a symbol for strength) and flora (cactus - stands for endurance and the ability to adapt to harsh situations) the geography of the continent. The beads (such as on view at the photo of the bracelet) remind the former trade currency between Europe and Africa, the African Trading Beads. Parts of the 'Africa' collection are already available.
The pilot sunglasses (RC1046 32z) are from the new Spring/Summer 2017 collection by Roberto Cavalli. The frame is decorated with dark-brown snakeskin with gold details, the temples with tiger eye, and the lenses are colored in dark-violet.
The new 'Lovegrass' eau de parfum (for women and men) by Clean is a fresh scent! Lovegrass is a very light fragrance which combines refreshing and relaxing notes. It opens with sunny lemon, clementine and black pepper, the heart notes iris, orange blossom and rose petals act like a warm wrapping up scent cloth and the base notes are composed from stimulating-soothing ingredients of woods, patchouli, labdanum, and musk. The eau de parfum is composed by perfumer Patricia Choux; it will be available in Austria from March exclusively at Marionnaud.
Already from February, the new medical beauty line NCTF-Reverse by Filorga will be available exclusively at Marionnaud. Filorga delivers solutions for medical use and beauty products for end-consumers. The new line is a combination of both. It took three years to develop the anti-aging line for the end-consumer market for achieving effects which are known from medical beauty therapies. The challenge was to pack the NCTF (New Cellular Treatment Factor) into a formula which transfers the rejuvenating, cell-activating ingredients deeper into the skin. Measured are enhanced firmness of skin (reduces wrinkle depth), better moisture storage (more radiant look) and reduced pore size.
The coat by comma is from the current Spring Outdoor collection 2017. The cut of the coat awakes associations with the Indian clothing piece Sherwani. It fits perfectly to the 'Cosmopolitan Style' for women's everyday wear in combination with a dress, trousers or skirt in combination with a blouse or t-shirt.


more collections>