15 March 2017

Fashionoffice SS2017 tip: Juicy Style
The 'Juicy Style' is inspired by this year's floral prints on jeans, dresses and derives its name from high-tech beverages, cosmetics and digitally created spice.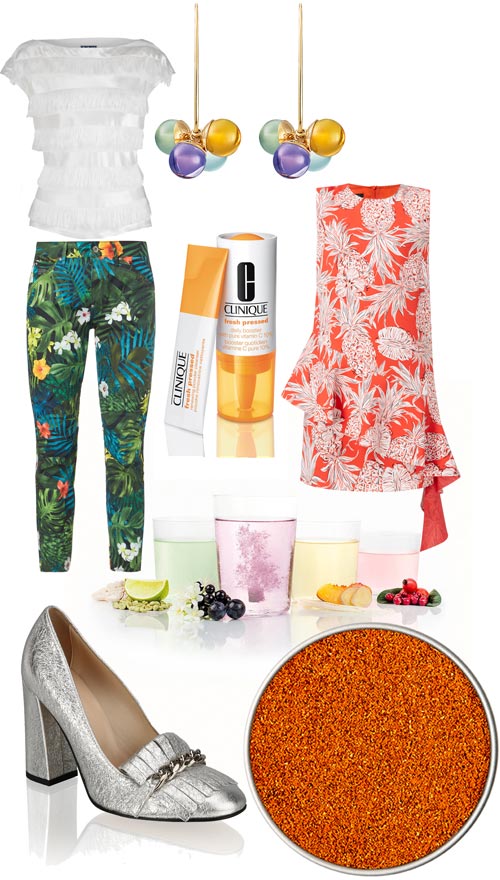 Brand new is the sugar-free microdrink of the Austrian label Waterdrop; the pressed powder contains vitamins, superfood extracts and natural aromas. One powder cube is developed for minimal 250 ml water. Since January 2017, the waterdrops are available online. At the website, the four flavors and their qualities are described under the titles Focus, Boost, Defence and Youth. It's not intended to replace fresh fruits but to stimulate the daily water drinking behaviour with healthy ingredients. (Currently, the microdrink can be tested at the Waterdrop store in Vienna.)
The 'Fresh Pressed Daily Booster und Cleanser' by Clinique works with an almost similar strategy of pressing vitamins into a concentrate for the daily beauty routine. This time it's vitamin C in 10-percent concentration for the booster. Clinique shows with a video how to use the cleanser and booster.
Before turning to clothing, jewelry and shoes, another new product which represents literally the taste of Vienna. The spicy-fruity 'Cross Continent' (last image, right) was created by users of the online spice-configurator by Vienna-based spice store and manufactory Babette's and was selected by a prominent jury of professionals at the end of last year. The blend of cumin, chipotle chili, pomegranate and other ingredients can be used for meat, ragouts, vegetable dishes or sauces. Photo: (c) Babette's.
The earrings with water-berry-like amethyst, beryl and quartz drops are from the current collection by Viennese jeweler A.E. Köchert.
'Coconut' top in white with fringes from the 'Ahoy' Spring /Summer 2017 collection by Austrian label Lena Hoschek. Photo by Lupi Spuma.
'Elwood' jeans with floral print by G-Star Raw, seen at peek-cloppenburg.at.
Dress by Pinko with white pineapple print on red; the skirt shows an asymmetric cut, seen at peek-cloppenburg.at.
Metallic shoes for floral prints! The silver metallic pumps by Alisha were seen at Humanic.