23 August 2017

Fashionoffice autumn 2017 tip: Inspired by graphical art!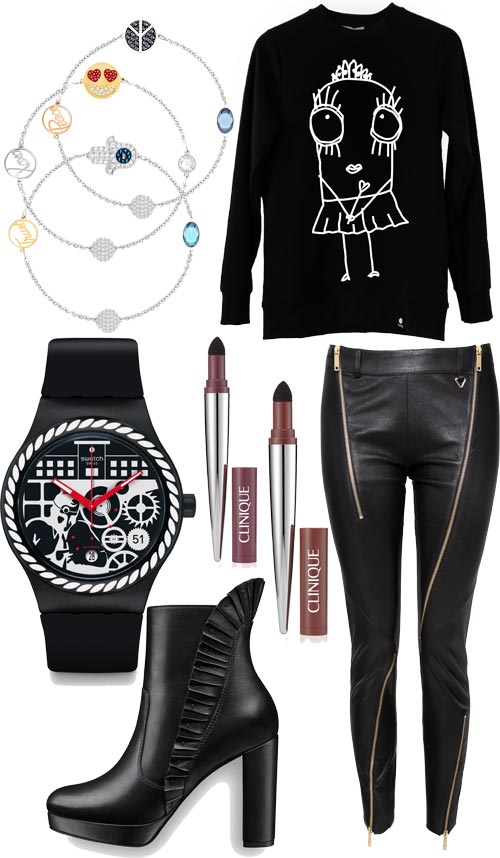 The products on view on this page are already available, except the new lip powder by Clinique which arrives in stores in eight colors in September (in Austria). The concept of 'Clinique Pop Lip Shadow' (with matte finish) is to add pigments like a painter to the lips, and the product looks even like a crayon. It can be applied above a neutral lip balm for a creamy finish. Another recommended usage is to add a darker shade at the contours and mouth angles, and a lighter note in the middle of the lips. On view at the image are the colors 'Fun Pop' and 'Brown Sugar Pop'.
The bracelets by Swarovski are from the new 'Remix'-collection. The magnet closure can be used to link two or three or more of them together. This way, two bracelets become a choker or three a longer necklace, etc. Several of the items carry symbols like the peace sign, hearts emoji or the hamsa hand which stands for the hand of god, luck, fortune. Photos: © Swarovski
The 'Princess' sweatshirt by Austrian label Quipster shows one of the graphics by co-founder artist Andreas Körner. Special characteristics are added to the Quipster figures; the Princess is a shopoholic who is addicted "to anything sparkly, shiny and all things pretty!"
The 'Sistem Schwiiz' from the 'Swissness' collection by Swatch pays tribute to Swiss watchmaking. The graphics reference Swiss paper cut artwork. On view are a watchmaker, a factory and the mechanics of a watch. Photo: (C) By Swatch.
The ankle boots are designed by Marcel Ostertag for Tamaris. The 9-pieces 'Tamaris by Marcel Ostertag' collection premiered at Berlin Fashion Week and is inspired by Marcel Ostertag's 'Revolution' Autumn/Winter 2017 women's wear. The frills-like decoration might be associated at the first look with Olympian god Hermes' winged footwear; only that they are turned around. The element adds an elegant lightness with overturning touch to the boot.
The zip pants by Iceberg were seen at the Viennese luxury store Popp & Kretschmer where several Iceberg items with comic prints are currently presented at the online shop.