17 January 2017

Outfit tip inspired by Austria's glam ski spot Kitzbühel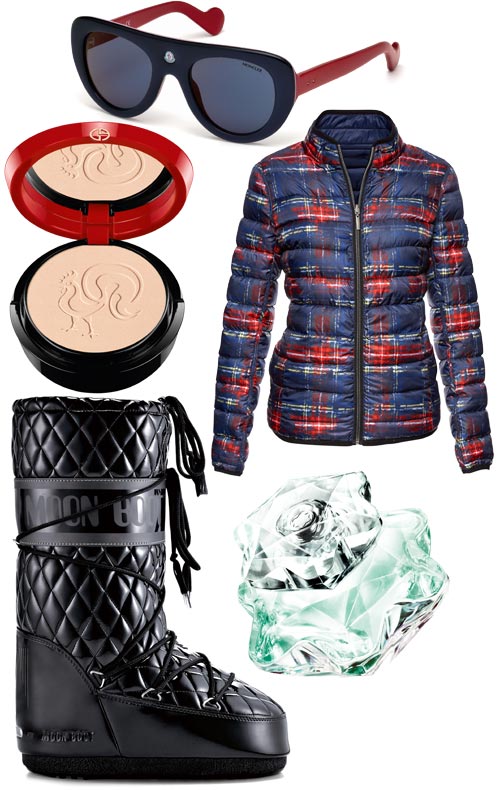 Currently, the 77th Hahnenkamm ski race is ongoing in Kitzbühel, Tyrol. Kitzbühel is Austria's most glamorous ski region and motivates brands, press agencies and media each year again for styling tips. The images on this page originate from a special 'Kitzbühel Style' release with material by some labels and additional items collected by Fashionoffice for the ski-mountain-glam such as the compact powder by Giorgio Armani Beauty. The powder-printed rooster references Chinese New Year which starts on 28 January in the zodiac sign of the fire-rooster. The red/black box in Chinese lacquer comes with a brush; on the top of the red cap, the Chinese signs for the terms 'happiness' and 'wealth' are embossed. The special edition of 'Armani Glow' compact powder is available since mid-January (in Austria exclusively at Giorgio Armani Beauty counters at Douglas in Vienna and Salzburg).
The 'Queen' Moon Boot in black is always a good choice. The quilted lacquer applies an elegant touch to the warm boots.
The reversible jacket (on view is the side with allover check) is from the animal-free 'Hug The Duck' down jacket line by Frieda&Freddies. The material inside imitates synthetically natural downs. Additional advantage of the animal-free downs: the jacket can be washed easily and dries quickly.
The sunglasses are from Moncler's first eyewear collection with Marcolin (released last autumn). The colors and the round forms are inspired by classical ski goggles of the 1970s and the label's famous 'boudin' quilted down jackets.
The flacon in ice-crystal form will be available from March. It's the latest composition by Montblanc and is entitled 'Lady Emblem L'Eau'. The peach, lychee, roses and magnolia mixture is a spring messenger!
The 'Winter' snow sport season in Kitzbühel lasts until April/May before the 'Summer'-activities with focus on outdoor sports like hiking, cycling, golf... begin.


more collections>