14 August 2017

'Popp & Kretschmer' catalogue presents fashion in 'to see and be seen'-like photo series by photographer Rafaela Pröll and model Magdalena Frackowiak at Burggarten
The palace garden 'Burggarten' is probably one of Vienna's most beautiful places where people go through or sit - such as at the Palmenhaus cafe - to see and to be seen. The garden belongs to the Hofburg Palace which was until 1918 the residence of the emperors of Austria and is used until today as the country's political centre such as for the offices of the Federal President or the Chancellor. The former private garden of the emperors' family is located prominently between the Austrian National Library (Nationalbibliothek, history dates back to the Middle Ages) and the Vienna Opera, the place of high-culture music performances and the annual Vienna Opera Ball. Vis à vis of the Vienna Opera, luxury fashion house Popp & Kretschmer presents fashion, shoes, accessories on 1.400 square meters over three floors. The fashion house was founded 1889 and is known for its characteristic collection of elegant pieces by trending labels.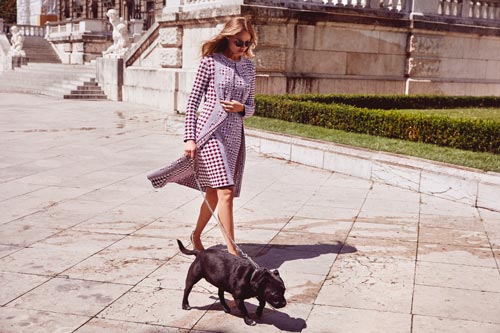 For the new Autumn/Winter 2017/18 catalogue, photographer Rafaela Pröll staged evening gowns, day wear combinations, jeans, shirts, footwear from high heels to sneakers, bags,... from the latest collections by labels like Moschino, Balmain, Zuhair Murad,... at Burggarten. In front of the camera appears Polish model Magdalena Frackowiak in the role of the fláneur (image right) or as opera, ball guest who uses the garden to rewind (picture below). Magdalena Frackowiak's work includes cover shoots for Vogue, Harper's Bazaar or Elle. Popp & Kretschmer collaborated with the model already in 2014 for the store's seasonal catalogue. The concept for the FW17/18 shooting at Burggarten was elaborated by Popp & Kretschmer together with Rafaela Pröll and Magdalena Frackowiak.

fig. above: Model Magdalena Frackowiak wears a dress and coat by Oscar de la Renta. Below: Magdalena Frackowiak in an evening gown by Mary Katrantzou. Photos: (C) Rafaela Pröll / popp-kretschmer.at
The items are available at the Popp & Kretschmer store in Vienna and online.