19 October 2017

Pictures, video from the Erdem x H&M women's and men's wear show with partly gender neutral items in Los Angeles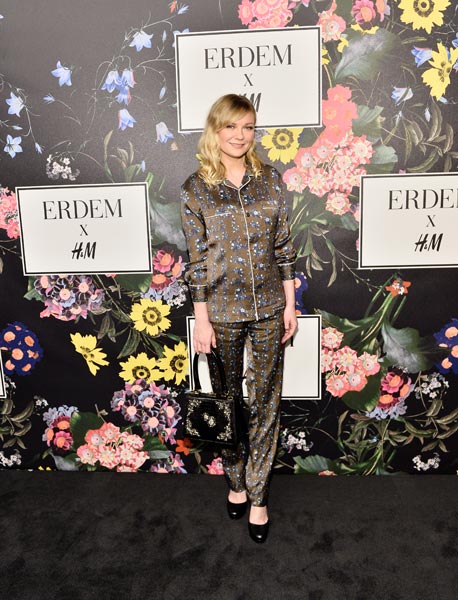 Yesterday, H&M presented the collaborative Erdem x H&M collection in front of guests like actors Kirsten Dunst (picture right), Kate Bosworth, fashion designer Alexa Chung or blogger/designer Gala Gonzalez (image below in the middle) at the women's club Ebell in Los Angeles. Today, pictures and video (below) were provided for insights into the women's and men's wear show of day wear made of fabrics with romantic floral prints or classical British wool checks and seductively constructed black lace evening wear. One of the highlights of the collection are the women's and men's pyjama-suits such as chosen by Kirsten Dunst for her appearance in the front row.
fig.: Kirsten Dunst in Erdem x H&M. Photo: (C) 2017 Stefanie Keenan.
It was the first time that designer Erdem has shown men's wear on the catwalk. Men appeared in fake fur coats with animal prints over classical suits, knits that remind ski pullovers worn in combination with classical woolen blazers, or trousers made of satin fabrics with floral prints. Some of the styles are designed for men and women in an gender-neutral fashion such as the fake fur coats or the pyjama suits (image below right).
The fashion show was continued by a live performance by Grimes. H&M installed an exclusive pop-up store for the event guests at the club. From 2 November, the collection will be available at selected stores worldwide and online.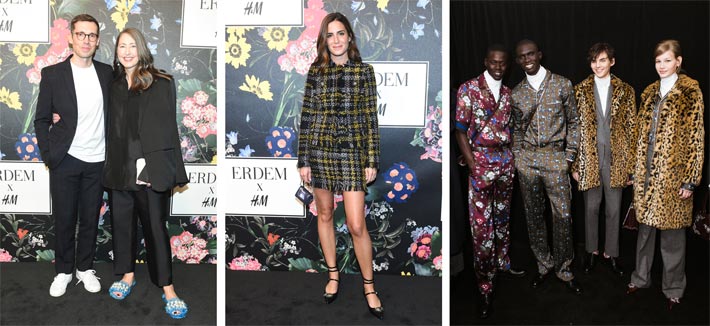 fig. Pictures from the Erdem x H&M fashion show at the women's club Ebell in LA, 18 October 2017; from left: Designer Erdem Moralioglu and H&M's creative advisor Ann-Sofie Johansson. Gala Gonzalez wearing Erdem x H&M. Photos: Joe Schildhorn/BFA.com, (C) BFA. Right: Backstage at the Erdem x H&M fashion show with the models Alpha Dia, Fernando Cabral, Eli Epperson and Sofia Mechetner. Photo: Hagop Kalaidjian/BFA.com; (C) BFA.

For the looks, beauty artist Isamaya Ffrench used various products such as foundation, highlighter or blusher from the H&M Beauty range.