3 October 2017

Vienna Insight: Koloman Moser, Josef Hoffmann inspired 'Art Nouveau' lingerie by Palmers; presentation at MAK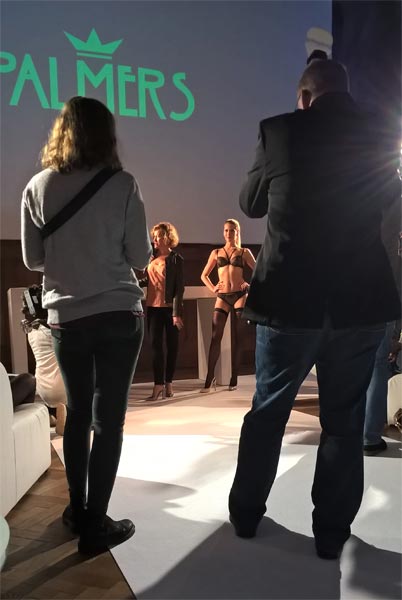 From next week, the new 'Art Nouveau Privée' lingerie (bras, panties, homewear) will be launched at selected Palmers stores in Europe. Two weeks later at around the 25th October, especially decorated store windows will open via lingerie the doors to the applied arts of the 19/20th century and show how it influences fashion and textile design nowadays.
Today on 3 October, Palmers' Head of Design Gabriele Schöller (on view at the image while speaking about the line) presented the 'Art Nouveau Privée' collection at MAK museum in front of media. Gabriele Schöller collaborated closely with the MAK team for finding from ca 30.000 archived artefacts (illustrations, photos, objects like furniture) the most inspiring 20 designs. Among them Josef Hoffmann's sketch of a chandelier which was reinterpreted on relatively small spaces like the bra-cups and panties of the 'Privée Salon' set with matching stay-ups (on view at the model standing right beside Gabriele Schöller); the chandelier motif is enriched with crystals by Swarovski. The homewear 'Privée Étoile' (not on view on this page) contains items such as a silk coat and pyjama - both are carrying original Koloman Moser star flower prints.
Photo captured on 3 October 2017 at MAK museum in Vienna: Palmers Head of Design Gabriele Schöller is standing beside a model who wears the set 'Privée Salon' from the 'Art Nouveau Privée' collection; available in Palmers stores in Europe and online at www.palmers-shop.com from mid-October. The presentation was live-streamed on Facebook (video).

Note: The Austrian Museum of Applied Arts / Contemporary Art - MAK is currently planning special exhibitions concerning Koloman Moser (start of the exhibition in December 2018) and Josef Hoffmann (from December 2020).


more collections>