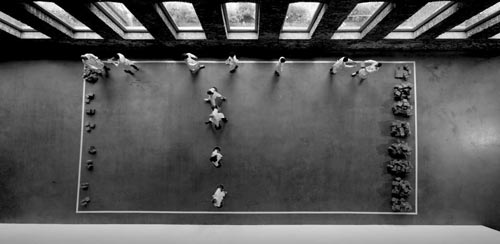 fig.: The film still (from the video below) shows the field and the eleven performers.
Video 'Work Relation 2014' A film by Marina Abramović, in collaboration with adidas. Based on the original "Work Relation" by Marina Abramović and Ulay, 1978.
Creative Director: Marco Brambilla; Director: Dustin Lynn; Director of Photography: John Schmidt; Editor: Akiko Iwakawa; Audio Mix: Elizabeth McClanahan
Location: Pioneer Works, Brooklyn, New York
Produced by Subject. In association with the Marina Abramović Institute + adidas
Performers: Giuliano Argenziano, Victoria Velasco, Billy Zhao, Paula Garcia,
Allison Brainard, Thomas Kelly, Hugo Huerta, Serge Le Borgne, Noah Blumenson-Coook, Rebecca Davis, Maria Herranz

The Serbian in New York-based performance artist Marina Abramović was one of the first who explored the role of the audience for the artwork in the 1970s; at that times, the holistic view and thinking became important not only in art but also in natural sciences like medicine or for the development of environmental strategies. Abramović is known for exploring the relationship artist-audience in an extreme way and has proved staying power of body and mind in performances which lasted over days. Her current performance goes over 512 hours; 11 June - 25 August 2014 at Serpentine Gallery London.
Is art still art when it's packed into advertising?
On 9 July 2014, sports brand Adidas sent the information about the collaborative film project 'Work Relation' with performance artist Marina Abramović. Just on the same day, several articles were published already online such as the one on Artnet where the collaboration was questioned critically if she is "cannibalizing her oeuvre to sell sportswear." Fashionoffice waited for the publication of an article until today (12 July) and used the time for reflecting upon the controversial video which was produced on occasion of 2014 FIFA World Cup Brazil after Abramović' original performance 'Work Relation' from 1978. Is art still art when it promotes at the same time sneakers?
Even when the collaboration between Adidas and Marina Abramović for a campaign is distracting, the project video mediates useful content. Better a community-driven message about working together in teams and collaboration than meaningless sneaker advertising! Art is still art when its message works together with the idea behind a product. This can disturb; or shouldn't it?
Video (credits above): At the Adidas X Marina Abramović collaborative video 'Work Relation 2014', eleven performers in three differently working teams collect stones on a football-like field. The 'players' wear Adidas' Samba sneakers which were introduced for the first time in 1950 as football-training shoes.
Marina Abramović about the project: "Working as a team maximizes commitment, dedication, and ultimately, performance. Collective energy is a source of great strength. This is what I came to find through the trials performed in 'Work Relation' (1978, with Ulay). These same qualities are necessary to the foundation of my institute, MAI, and to any unit. I find the commonalities between performance and sport very intriguing and was excited to highlight them in this project."