Reflections on time, space and the existence of human beings
Already in early 2014, 'AllesWirdGut' posted on Facebook the announcement of the team's participation in the Venice Architecture Biennale 2014. At the end of April 2014, the Austrian architects 'AllesWirdGut' (the team's name is translated on their Facebook page as 'everything is gonna be alright') sent closer information about the participation in the Biennale Architettura Venice 2014 which is curated this year by Rem Koolhaas who focuses especially on 'modernity' in architecture during the last 100 years and the evolvement of a new global language for architecture's fundamentals or universal elements of architects like doors, walls, windows, balconies, etc. The formation of new, internationally used esthetics (or norms for what is considered as beautiful) for the creation of fundamentals makes architecture interchangeable globally and can be questioned such as Rem Koolhaas does on labiennale.org "Has national identity been sacrificed to modernity?"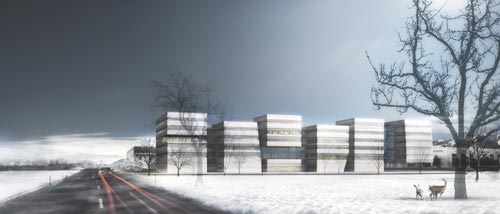 The architects 'AllesWirdGut' will present their construction plans for the new building of the headquarters of the ropeway engineering company Doppelmayr (Vorarlberg, Austria; 550 employees will have their workplaces at the office building, scheduled to be completed in mid‐2016; image on this page) at the collateral Biennale event 'Time - Space - Existence' at Palazzo Mora in Venice. The exhibition's aim is to make aware of the influence of architecture on the personal existence of humans in time and space. It will open on 5 June and can be viewed during the time of La Biennale Architettura di Venezia until 23 November. "By combining different architectural thoughts and approaches, this exhibition aims to enlarge our human awareness of our own personal existence as a human being within a specific space and time." palazzomora.org.
Video from the press conference of the 14th International Architecture Exhibition 'Fundamentals' in Venice, 10 March 2014. Rem Koolhaas (curator of the 14th International Architecture Exhibition) and Paolo Baratta (President of la Biennale di Venezia) speak about the intentions of this year's Biennale.




more culture>