Austrian fashion history of the first half of the 20th century
In the 20ies/30ies of the last century, Austrian fashion was strongly connected with the Jewish population. Fashion designer Emilie Flöge (partner of Gustav Klimt) had to close her salon after 1938 caused by the loss of her Jewish clientele. Emilie Flöge is probably Austria's most popular fashion designer until today; her portrait painted by Gustav Klimt is famous and her collaboration with the Wiener Werkstätte legendary. Many of the Austrian fashion producers were Jewish; after 1938, they lost their properties, fled or were transported to concentration camps where many died. So, when asking after Austrian fashion history of the first half of the 20th century a cruel chapter has to be opened. Several Austrian initiatives are dedicated to the re-working of the history of the years before and during World War II to remember the beginnings of the institutionalized crimes against humans, the effects on the survivors and the ones who are living today with this heritage.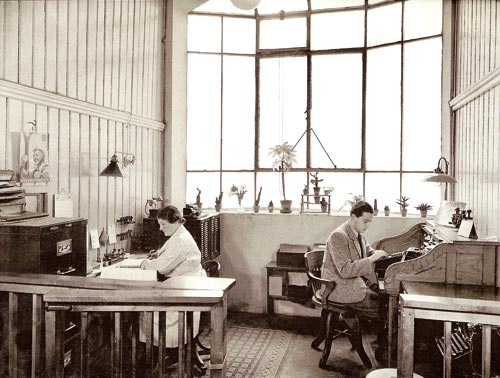 One of the products of these initiatives is the documentary by Alexandra Reill about 'The Moldau Family and the Story of their Escape from Austria 1938'. The family Moldau owned the leather manufactory 'Molmax' at the 7th district of Vienna (image of the office at Molmax). Molmax produced sports equipment and travel goods (luggage) and received a Grand prix and a Medaille d`Argent at the Paris World Exhibition 1932. Heinz Moldau, the son of the owner of Molmax was 16 years old when he fled with his family to Great Britain where he is living now. In the documentary, he speaks (German/English subtitles) about his experiences of the changing atmosphere in Vienna, the Hitler movement and his family's escape. The video is published on kanonmedia.com.

On 9 November 2014 (in memory of the 'Kristallnacht', the 'Night of Broken Glass' on 9 November 1938), the filmmaker will talk about the documentary after the screening in Vienna (event details).