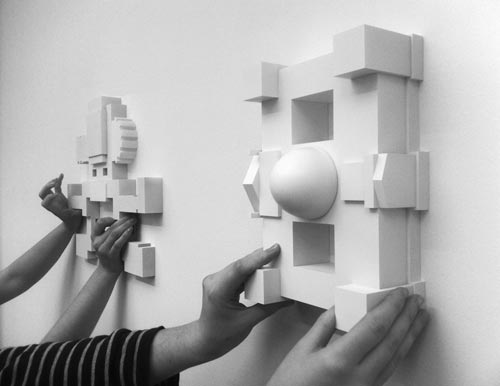 The architecture of power and disorder
Currently, the European elections are running (until tomorrow, 25 May 2014). People in the 28 EU-member states are voting for their representations on 751 seats of the European Parliament in Brussels - and there are many parties which wait for voices; the European Parliament will stream the results of the elections live online. Austria will vote tomorrow and Fashionoffice uses this thrilling time for an insight into the activities of the Austrians at the upcoming Architecture Biennale in Venice.
fig. right: The image shows hands which fix architecture models of parliaments onto the wall for the exhibition 'Plenum. Places of Power' at the Austrian pavilion during Biennale Architettura 2014 in Venice from 7 June to 23 November 2014. Photo: Biennale Office Vienna.

The architecture models of 196 parliaments of Argentina, Austria, Brazil, Finland, Senegal, etc will be accompanied by a 'Pocket Catalogue' which carries information about the idea behind the construction of each building, the year when it was built, the name of the architect and the space it offers. For a better understanding of each country and its 'power'-houses, statistical population data are published below the description of the architecture; the pocket guide's pages are sized like flight tickets.

fig. below: View from inside of the Austrian pavilion to the exhibition space with architecture models on the walls and to the garden, exhibition 'Plenum. Places of Power' during Biennale Architettura Venezia 2014. Photo: Andreas Balon.

In the courtyard of the Austrian pavilion, the idea of new growing power structures will be presented in a (disordered) environment which is created by the landscape architects Auböck and Kárász; the Kollektiv/Rauschen group created a sound installation which makes think of the power of people's voices in democracy - voices of individuals "but also in the swelling chorus of the impatient crowd" such as it is announced on labiennale.at.