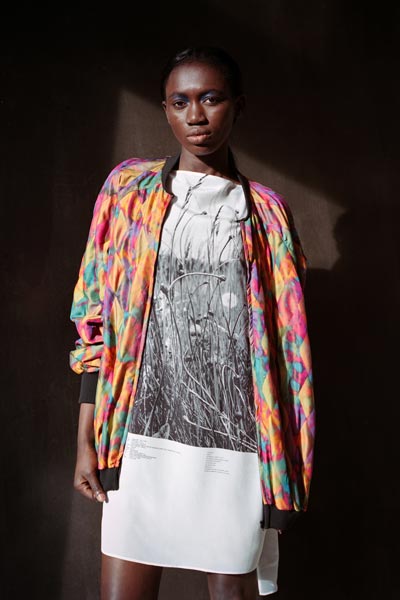 Nature inspired design items at the touring fair Blickfang
From 17 to 19 October 2014, the touring fair/shopping event 'Blickfang' will show fashion, furniture, jewellery, home accessories and upcycled products by (self-producing) designers at MAK (Austrian Museum of Applied Arts) in Vienna.
In late September 2014, Fashionoffice previewed the press material concerning this year's participating designers.
One of the Austrian design labels at Blickfang in mid-October is 'Schneiderhof' which is more than a label of products; it's a new meeting place for fashion, photography, film, art, music in Vienna. Schneiderhof was founded by Monica Ferrari-Krieger and Romana Zochling; the duo's own clothing line is named 'Ferrari-Zochling' (image right). The designers work closely with photographer Severin Koller who contributed the dress' photo print of a meadow inspired by the idea of peace (article).
Anna Badur's (DE) textile and wallpaper series are inspired by water; especially the wind, waves and coast of the North Sea. The textile series 'Drawn by Nature' is an experimental fabric pattern that is made from blue pigments blown over the wet material - another form of capturing nature and the elements. The wallpaper series 'Stirring Seas' (image below right) shows the waves at the coast.
And the third picture on the page (below left) shows furniture by Reditum (DE); the label works with recycled materials and conserves this way nature. Reditum is one of the labels at the 'Upcycling Schau' presented by the Austrian natural mineral water company Vöslauer.
It's announced that Blickfang's online shop will open in mid-October. Get a first impression of the range of the fair and online shop on blickfang.com/blickfang/produkte/designer.
Other blickfang stops are:
2014: Copenhagen 15 - 16 November, Zürich 21 -23 November, Hamburg 28 - 30 November
2015: Munich 13 - 15 March, Stuttgart 20 - 22 March, Basel 24 - 26 April
Photos provided on occasion of Blickfang Wien, 17 to 19 October 2014 at MAK Vienna, (C) blickfang.