It's all about time and the things that count in life
In two days on 18 July 2014, the Salzburg Festival will start into its 94th year with the concert 'The Creation' - a biblical theme about the creation of the world by Austrian composer Joseph Haydn, from the festival's 'Ouverture Spirituell'-series which pays homage to intercultural and interreligious dialogue. One of the main focuses of this year's festival is World War I and its effects on society during last century.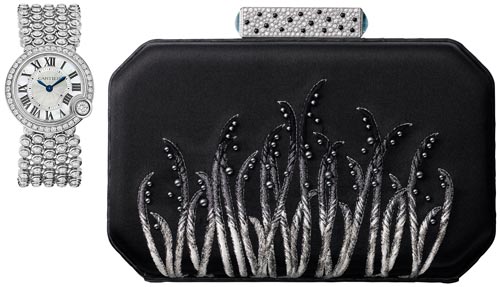 Fashionoffice presents on this page two pieces by jewellery brand Cartier from the label's 'Salzburg Festival'-selection: the watch Ballon Blanc and the clutch with a clasp paved with brilliants and onyx. (Photo clutch: (C) Vincent Wulveryck@Cartier)

The versatile styling possibilities of the two pieces make them wearable the whole festival through (until 31 August). The watch and clutch in combination can be worn to a long gown with delicate floral embroideries, a short cocktail dress in elegant purist cut as well as to an evening suit.
One of the highlights of the festival is the theatre performance 'The Forbidden Zone' after the text by Duncan Macmillan (world premiere on 30 July) about a young female scientist who tried to find antidotes for chemical weapons which were used in times of World War I. The text references thoughts by feminist authors like Virginia Woolf, Hannah Arendt or Simone de Beauvoir. The main role Claire Haber asks herself in the play: "What reasonable course of action can any human being undertake in a world that seems hell-bent on war?" (cited from salzburgerfestspiele.at).
At this time, the most prominent dress is worn by the female role at 'Everyman' (play about god, the devil, a rich man and the death). The red gown received already a lot of attention and is extensively described in media such as on Salzburg.com.
The latest Facebook posting by Salzburg Festival (from today 16 July 2014) shows the costumes of this year's 'Everyman':
more culture>