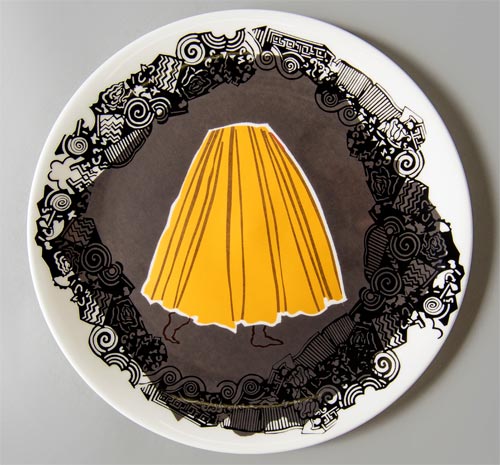 fig.: 'Proposition 27 Hidden' by Charlotte Hodes, 2014; edition 100, enamel transfer on china, diameter: 30 cms. Exhibition 'The Grammar of Ornament'; 6 March to 5 April 2014 at jaggedart gallery in London; 26 April to 24 May 2014 at Women's Art Collection, New Hall, University of Cambridge.
An artist on fashion and the female figure
In spring 2014, new papercuts and ceramics by British artist Charlotte Hodes will be on exhibition tour under the title 'The Grammar of Ornament'. The name of the show references architect Owen Jones' art/design guide from 1856 about ornaments.
London-based Charlotte Hodes' work could be described as art where culture products like fashion or tableware are not only the themes of reflections but even incorporated with techniques of arts & crafts. The social reflections center on the changes of the female figure and role through history. The video below shows how Charlotte Hodes researches skirt patterns, graphical prints and how she is re-positioning cut-outs of patterns on female figures.
At the exhibition 'The Grammar of Ornament', Charlotte Hodes will reflect upon male theories (Owen Jones) by using a female art language. The new thirty seven papercuts and ceramic dishes will invite visitors to discuss male hierarchical systems from a feminist approach. "In Hodes' papercuts the female figure appears as a protagonist serving to undermine and disrupt the rigidity of the hierarchical system presented by Jones, defined by his "General Principles" that govern the use of design and ornament in architecture." (cited from the press release on charlottehodes.com; checked today on 13 Feb 2014).
The exhibition travels: from 6 March to 5 April 2014 it will be on view at jaggedart gallery in London; and from 26 April to 24 May 2014 at Women's Art Collection, New Hall, University of Cambridge
Video: Charlotte Hodes, artist and Professor in Fine Art at London College of Fashion, University of the Arts London, speaks about the making of the series 'Drawing Skirts'.




more culture>