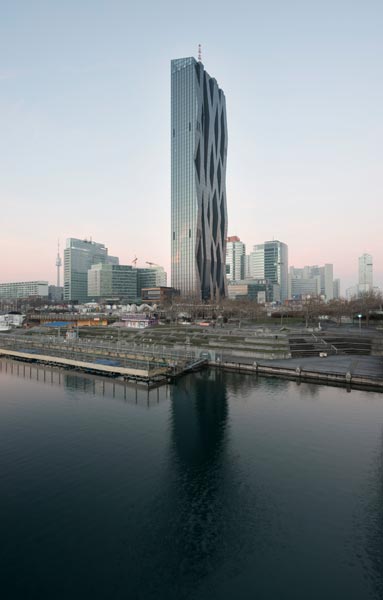 Austria's tallest building lets the Danube river flow visually to the sky
Today on 27 February 2014, Austrian daily press was filled with photos of the newest architecture in Vienna. The DC Tower stands nearby the United Nations building and Tech Gate Vienna. With 250 metres height, it is currently Austria's tallest building. The 60 floors creation (offices, lofts, hotel) by architect and urban planer Dominique Perrault references the lifeline of the city, the Danube river which is on view on the photo right before the DC Tower. The river landscape caused the name of the city 'Wien', gave Wien (English 'Vienna') its urban structure, vegetation and animal world, left its mark in culture such as in music - the 'Danube Waltz', and is even part of the new building's name 'DC Tower' - Donau City Tower.
The space oriented liquid-like facade of the monolithic building appears like the verticalized Danube. Some cineastes may be reminded of the stone of the wise of Stanley Kubrick's movie 'A Space Odysee' when they see the monolith.
fig.: DC Tower at Donau City in Vienna; view of the skyline with antenna. The DC Tower was opened officially on 26 February 2014. Photo: (C) DC Towers / Michael Nagl.


more culture>