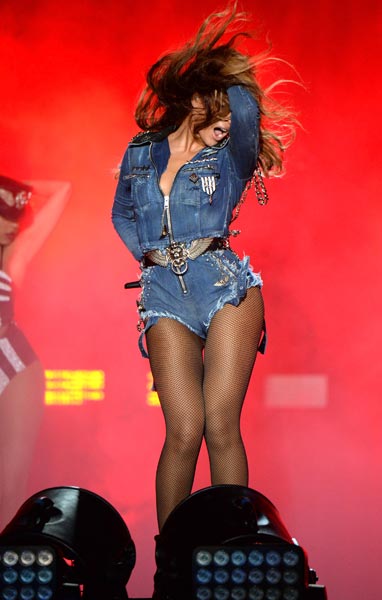 Beyoncé's 'On The Run' tour outfits by Diesel
During the night of 25 June 2014, Beyoncé's 'On The Run' tour started in Miami and on the next day, editors around the world are publishing articles and highlight lists concerning the stage outfits of the singer.
Rolling Stone made one of these highlight lists and noted that the costume changes for the 42 songs were so quick "... it seemed like Beyoncé wore a different costume for every single one of them."

The costumes were created by labels like Versace, Givenchy (Hollywood Reporter about the assless bodysuit "Because she can."), Alexander Wang or Diesel - last mentioned on view on the image on this page. The outfits were conceptualized by the denim label's artistic director Nicola Formichetti after the Diesel FW14 show this April in Venice. Beyoncé liked the outfits and Formichetti began to create the stage costumes. Style.com publishes an interview with Diesel's artistic director and his idea of accentuating her body with denim playsuits made of very stretchy material (the material is patented by Diesel under the name 'Jogg Jean'). The clothing pieces were re-fined (hand-painted, embellished with Swarovski crystal elements, etc) after Beyoncé's specific requests.
fig.: The images show Beyoncé performing during opening night of the 'On The Run - Beyoncé And Jay Z' tour' at Sun Life Stadium on 25 June 2014 in Miami Gardens, Florida.
Picture below: During the performance of 'Baby Boy', Beyoncé's male dance duo 'Le Twins' wear complete head to toe off-the-rack Diesel FW14 looks including patchwork denim jeans, vests, tank tops and accessories. Photos provided by Diesel; Kevin Mazur/WireImage for Parkwood Entertainment; (C) 2014 Kevin Mazur.