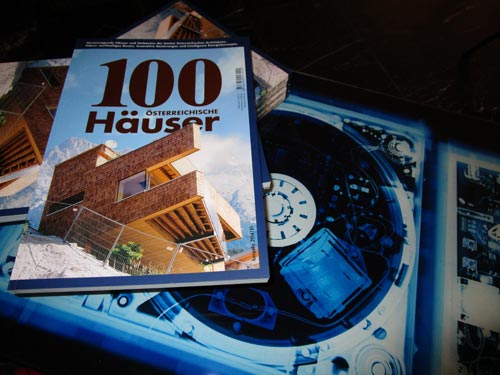 Vienna Insight
by Karin Sawetz, publisher Fashionoffice
(14 May 2014)
Denim clothing and furniture
Yesterday, Italian jeans label Diesel invited to the 'Brand Day' at an art space in Vienna. The guests were not only from Austria such as I found out after I shook the hands of an around 10-persons Slovenian TV-team. I think the situation was caused by a mistake. Probably they thought that I was from Diesel's team as I was just around to speak with one person from Diesel's staff about the permission to take pictures for an editorial article about the Brand Day, about Diesel's furniture (produced by Moroso) such as the table on view on the photo above with denim-blue and night-black turntable print below glass (the print is inspired by the idea of x-rays of a DJ-console), I asked where the furniture and Diesel lighting (last mentioned is produced by Foscarini) items are available (in Vienna at Prodomo) and why the publication '100 Häuser' is lying here on the table. The magazine is about 100 exceptional Austrian houses and was yesterday's collaborative event partner of Diesel.
At the second floor of the art space, the new Diesel Fall/Winter 2014/15 collection was presented on mannequins, racks, photos and videos. It was a luck that I had the chance to make the picture as the room was filled already at the beginning of the Brand Day with people which stood in front of the dolls, clothing racks or chilled at the furniture islands.
On the second floor they served the welcome drink; a smoking dark cocktail with blood-red cherries which had fire hazard qualities. The drink was just like mixed after a bartender's recipe sent from hell where it was made for glimmering parties; nothing for the faint-hearted but the taste was great!