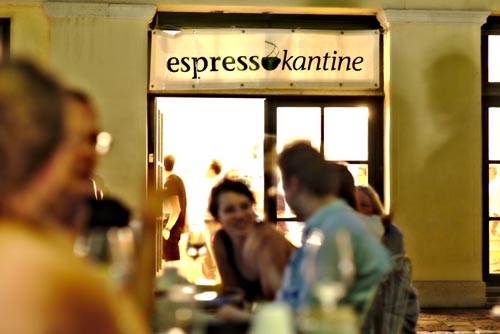 Espressofilm Open Air Festival starts with shorts about 'do easy'
Every Thursday and Friday from 10 July until 29 August 2014, the Espressofilm Open Air Short Film Festival invites to screenings (free entry) at the garden of the Volkskundemuseum at Palais Schönborn in Vienna.
Some of the short films are published (in full) online and so far there would be no reason to attend the garden event; but it's not only the atmosphere of sitting with other people in a romantic garden while enjoying culinary (in an own festival lunchbox!) at Espressofilm; international guests will talk about films and filmmaking after the end of the screenings.
The first theme of this year's program (starts on 10 July) is about 'the discipline of do easy' which fits to the holiday mood here in Vienna best. The first movie is by Gus Van Sant after a story by William S. Burroughs; this film is also on view online. The short film begins with an introduction into 'do easy' and ends with an example that stirs up thoughts about a society where people are not challenged but instead quasi sedated by routines. Is Gus Van Sant telling us with his film that this is a way to instrumentalize people better? The films at Espressofilm seem to be indigestible cultural food; the talks could have the effect of digestives.
Photo: (C) Espressofilm.
Facebook tip by Espressofilm to shorten time with another lesson about 'do easy': visit the exhibition 'New Ways of Doing Nothing' at Kunsthalle Wien Museumsquartier. (Fashionoffice published recently the article 'How to escape demands of society?' which concerns the exhibition.)
more culture>