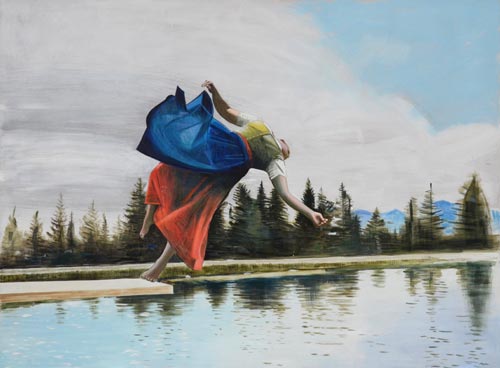 Invitation to a talk about 30 years art business in Austria
In early July 2014, Fashionoffice received the invitation to Gallery Altnöder in Salzburg where the two founders Heidi and Ferdinand Altnöder will talk about the beginning of their business 30 years ago in 1984. Since that time, Galerie Altnöder has organized more than 360 exhibitions with focus on Austrian artists such as Johanna Kandl whose painting of a woman in regional dirndl-dress on her jump into cold water was used for the invitation. Funny comparison! The image fits to a talk about the art business!
The gallery owners' talk about memories and experiences of 30 years art business on 19 July 2014 at 11:00 (during the opening party of the Salzburg Festival) will be held on occasion of the vernissage of the exhibition of works by Christian Eisenberger, Gerhard Rühm, Oswald Oberhuber, Johanna Kandl, etc at Galerie Altnöder. The '30 Jahre Galerie Altnöder' anniversary exhibition is on view until 13 September 2014.
fig.: Johanna Kandl 'Ohne Titel (Fliegende)', 2014. Tempera auf Holz, 170 x 220 cm. Photo (C) Johanna Kandl.


more culture>