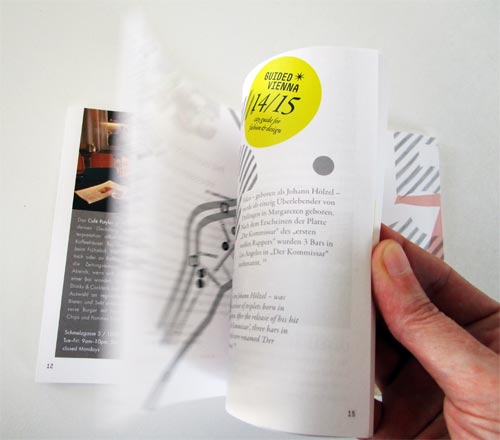 Vienna Insight
by Karin Sawetz, publisher Fashionoffice
(27 April 2014)

Collection of hot spots of fashion, design and culinary in Vienna
On 25 April 2014, I visited the booklet party of the new edition of 'Guided Vienna' at the store 'Design & Art' at the Westbahnstrasse. The art-furniture store is one of the selected destinations of the 14/15 edition. 'Guided Vienna' could be described as a collection of city points which can be interesting for explorers of upcoming trends before they hit the mainstream. I know some of the shops (and restaurants) which are listed there; and some of the others are already bookmarked such as the sneaker boutique 'Paar' (limited editions by Nike, Puma...).
This year, the publisher of the fashion, design, culinary guide incorporated the history of the city into the layout and text; each district is signified with another color (referring the house number plates system from the mid-19th century) and at the beginning of each book section, historical facts introduce into the regions such as at the one with the most hot spots, the 6th (Mariahilf) and 7th (Neubau) districts: during the 1910s and 1920s, the Austrian film industry settled there; the Neubaugasse and the streets around were the quasi 'film quarter' of Vienna.
The 'Guided Vienna' booklet is published online as well - what's good, because some of the pastel colored typefaces are easier to read on the screen. It can be downloaded as PDF on guided-vienna.com.


more culture>