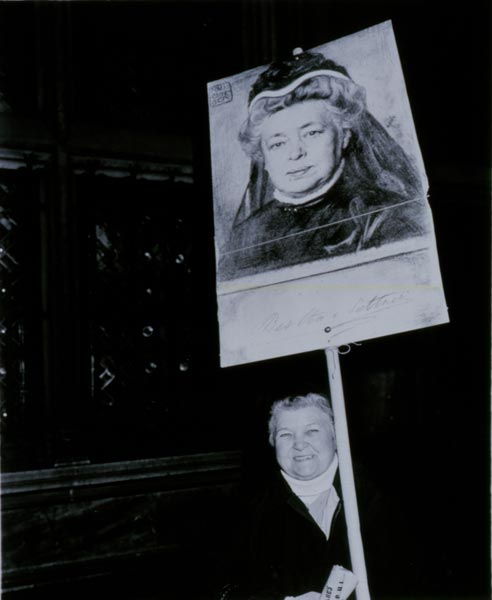 fig.: "Demonstrantin, 1984" by Christian Wachter, 1984; SW-Fotografie, 60 x 50 cm. Photo: (C) 2013 Kulturabteilung der Stadt Wien, MUSA.
100 years human dignity - and the loss of it
2014 is the memory year of the beginning of the 1st World War (1914-18) which destabilized world society for longer time than the duration of the war and led to World War II. In Austria, several exhibitions - from historical artifacts to contributions by contemporary artists, commemorate and re-view the events that caused war. One of these shows is the collaborative project by the cities Vienna, Sarajevo (both cities were strongly involved into the outbreak of WWI) and Brno under the title 'The Human Dignity...' ('Der Menschheit Würde...') from 1 April to 31 May 2014 at MUSA in Vienna. At MUSA, people's dignity and the loss of it will be explored such as with the photograph by Christian Wachter from 1984. The street shot of a woman with the poster of the Austrian novelist Bertha von Suttner (died 1914, received as first woman the Nobel Peace Prize) is like a memorial that it is never over to stand up for peace and dignity. The chronology of the exhibition at MUSA will not end after the two World Wars; according to the announcement, the curators will investigate additionally today's indicators of human dignity loss in everyday life.
The exhibition will travel: from 29 June until 2 August, it is on show at Art Gallery Bosnia and Herzegovina in Sarajevo; in autumn, the exhibition 'The Human Dignity...' opens at The Brno House of Arts.


more culture>