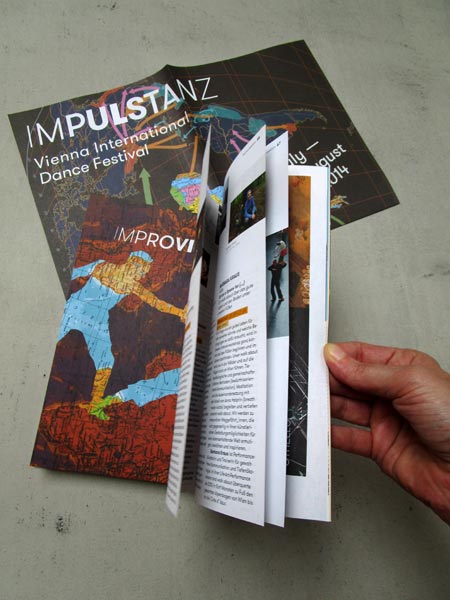 Visual design of the body training and dance workshop catalogue of Impulstanz Vienna
In mid-May 2014, dance festival Impulstanz sent the new workshop catalogue together with poster. The visual design of the poster and the catalogue's chapter covers show - let's call it, 'world map bodies in motion'. The powerful body collages are made by Olaf Osten and Katharina Gattermann and can be viewed closer at the festival's online catalogue (PDF). The 'First Steps Workshops'-catalogue has a clear navigation: the already mentioned body-map covers introduce into each chapter with typical body move images. This year's program reaches from classical dance workshops such as ballet, modern dance or HipHop, over youth dance/theater classes listed under the title 'Shake the Break' (from 4 years on), 'Golden Age'-courses (experimenting, training of movements for older persons), 'Body Work'-lessons (methods like Tai Chi, Yoga, Pilates for preparing the body for dancing) to 'Mixed Abilities'-workshops (the collage of this chapter shows two persons - one stands, the other sits in a wheel-chair).
Each teacher and class is described with an article which is headed with color blocks that carry duration and level (beginners, open level, age of children...); the time table in the middle of the catalogue is equipped with colors for navigation too - but they are not exactely the same as the time table focuses more on the levels than the course's theme; ballet courses are offered for beginners or advanced dancers for example. So, don't miss the color legend at the beginning of the time table - green signposts the youth-program 'Shake the Break' at the corresponding chapter as well as at the time table, orange indicates courses for intermediate and advanced dancers at the time table only, yellow stands for beginners...
At the end of the catalogue, the prices for the workshops are listed inclusively one calculating example as they give discounts. The first workshop week will run from 21 to 25 July, the last (fourth) from 11 to 15 August 2014 (schedule on impulstanz.com).


more culture>