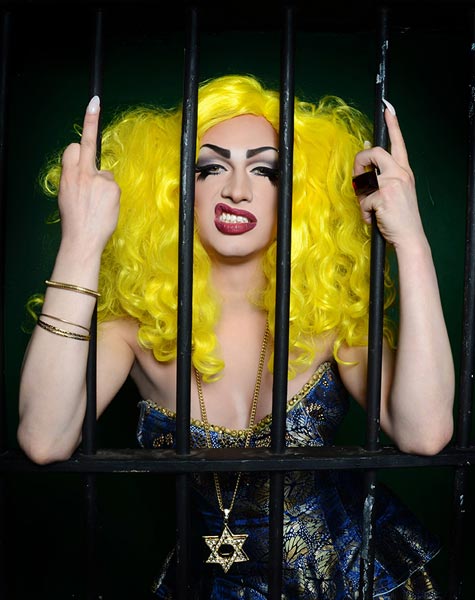 Jinkx Monsoon appears to 20ies flapper girl notes in drag cabaret
On 22 April 2014, Jinkx Monsoon posted the new music video for 'Coffee & Wine'. The song was released on the same day (available on iTunes) and is the teaser for 'The Inevitable Album' (announced for 6 May). Jinkx Monsoon - also called "America's next drag superstar", appears in the video with the eccentric touch of 1920ies women to music notes which bring the good old cabaret with the attitude of flapper girls to life. Director Alex Berry (creator of the upcoming film 'Drag Becomes Him') shot at Cornish Playhouse, Seattle Center. In May, Jinkx Monsoon is on solo tour in US (Florida, New York, California...) and in one country in Europe: on 31 May in Austria at the Life Ball in Vienna.
fig.: Portrait of musician Jinkx Monsoon (aka Jerick Hoffer) with yellow long hair wig. Photo by Jose Guzman Colon; provided by Girlie Action Media on occasion of the release of Jinkx Monsoon's 'The Inevitable Album'. "The album also has many send ups to my favorite influences," notes Jinkx, name-checking Billie Holiday, Patsy Cline, Amanda Palmer, Marlene Dietrich, Cole Porter, burlesque and cabaret performance, and of course vodka on the rocks. "We concocted an album that is a cohesive mixture of classic and contemporary."
more culture>