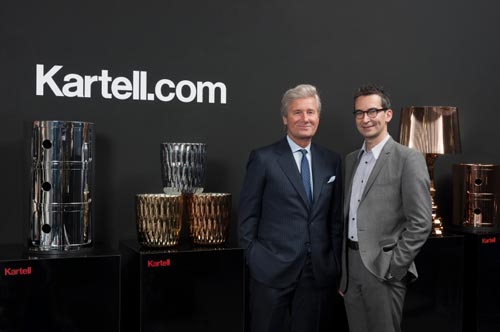 fig.: The photo shows Claudio Luti (Kartell President) and Federico Marchetti (Founder and CEO of Yoox Group) on occasion of the launch of the website kartell.com; photo provided by Kartell in mid-May 2014.
Italian design label Kartell collaborates with Yoox
In mid-May 2014, the Italian furniture, accessories, lifestyle products label Kartell launched its new website which is powered by internet retailer Yoox Group. Kartell (active in over 130 countries via more than in sum 3.350 shops and retailers) is known for iconic pieces such as the plastic Bubble Club sofa designed by Philippe Starck. For the new website, internet retailer Yoox created the concept, screen design, and provides technology, logistics, marketing and customer care. Alongside to the online shop (furniture, fashion...), the website carries information about the label's activities such as furniture for a hotel in Venice, the collaboration with Lenny Kravitz, or Pinterest board previews such as the one entitled 'Celebs love Kartell'.
Currently, the online shop offers are available for users from European countries; it's announced that other markets will follow.