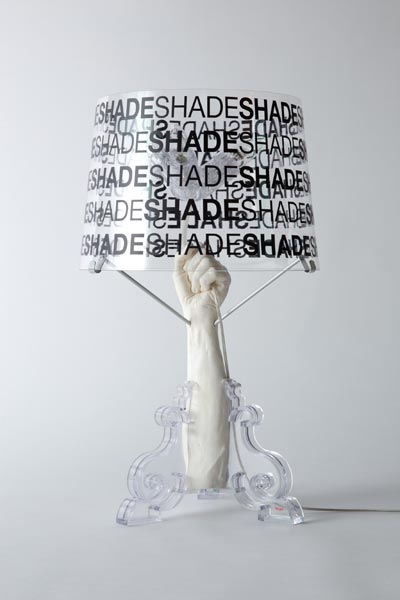 Musician Pharrell Williams' 'Bourgie'-lamp interpretation for Kartell
On 19 May 2014, Italian label Kartell presented nineteen 'Bourgie'-lamp interpretations at its flagship store in New York. Five of the nineteen re-designs were 'made in US' by American creatives. Originally, the Bourgie table lamp was designed by Ferruccio Laviani and is one of Kartell's bestsellers (iconic are the transparent shade and the baroque style). This year the lamp celebrates its 10th anniversary. Fashionoffice selected one of the re-designs as this one (on view on this page) plays humorously with the idea of enlightenment through the transparent shade, the strengthening baroque elements and the powerful arm of humankind. Pharrell Williams' lamp could inspire philosophical-historical thoughts about the beginning of an 'enligthened society' (17/18 century) but it is also the one which convinces through wit: it seems to capture the moment of awakening when the light goes on suddenly in a dark bed room for shaking you out of a lost-my-sunglasses-dream with the screen-echo 'SHADESHADESHADE...'
Pharrell Williams says about his re-design of 'Bourgie': "I used a human arm to represent the will of mankind in the daily plight of escaping the "shade" and the challenges of attempting to get closer to enlightenment. Illumination was meant to vanquish the "shade". The light will forever prevail. Inward, onward, and upward."
For Ferruccio Laviani the remix of design is like the remix in music significant for today's culture production: "I have always supported and promoted the "remix" concept to explain that what I create is something that already exists but becomes something else through my revision of reality, my re-interpretation of things. From Bjork to Madonna, from U2 to Daft Punk, many others have themselves been remixed by other artists often creating incredible tracks that are diametrically opposed to the original and often even better. I am honored and flattered that some of the most influential contemporary designers offered to remix an object of mine and I admit that their complete willingness actually even embarrassed me. I would like "Re-design the Bourgie" to be seen not only a tribute to and a celebration of the Kartell Light collection and of the Bourgie itself but also as a manifesto in the design world, precisely because of the profuse wholehearted efforts of all the other designers in this project. A manifesto whose key message is that ideas, culture and the differences of others can render the work of an individual more interesting and contemporary."
fig.: Kartell's iconic 'Bourgie' lamp originally designed by Ferruccio Laviani in the 'Re-Design Bourgie'-interpretation by Pharrell Williams. The lamp was presented together with nineteen other re-designs on 19 May 2014 at the Kartell flagship store in New York.