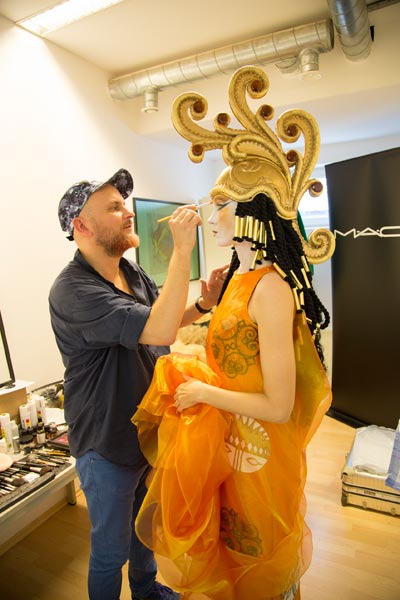 Life Ball 2015 is about improving our society
For the visualization of the socially driven theme, the artistic Life Ball team used a lot of gold!

On 30 November 2014, the Life Ball organization unveiled the motto of the Viennese AIDS charity ball 2015 together with some making-of pictures of the shooting for next year's Style Bible. Life Ball will happen on 16 May 2015 at the city hall in Vienna and coincide with the Eurovision Song Contest which will be held some days later on 19, 21 and 23 May.
The Style Bible 2015 is inspired by 'Ver Sacrum' (Latin for 'Sacred Spring') - a religious practice from ancient Rome and the title of the magazine of the art movement Vienna Secession which was founded by artists like painter Gustav Klimt or Wiener Werkstätte designer Koloman Moser whose works represented the spirit of starting into a new century (20th century) with ideas for a modern society. Change, renewal and improvement are also the main topics of Life Ball 2015 which runs inspired by the phrase of the Secessionists 'To every age its art. To art its freedom.' under the claim 'To every age its battle. To every battle its setting sun.' The word 'battle' stands here for the fight against the stigma associated with HIV disease and the social exclusion of infected people.
fig.: Behind-the-scene images of the making of the Style Bible 2015 for Life Ball on 16 May 2015 at the city hall in Vienna. Motto of the Life Ball / Style Bible 2015 is 'Gold - Ver Sacrum | Santa Primavera | Sacre du Printemps'. Above, right: Make up and hair artist Peter H. Schindler/perfectprops and model Ingried Stiegelbauer with bodypainting & airbrush make up by Birgit Mörtl. Below: Students of Modeschule Herbststraße improve the costumes. Photos delivered by Life Ball; photographed on 11 and 12 November 2014 by (C) Juergen Hammerschmid.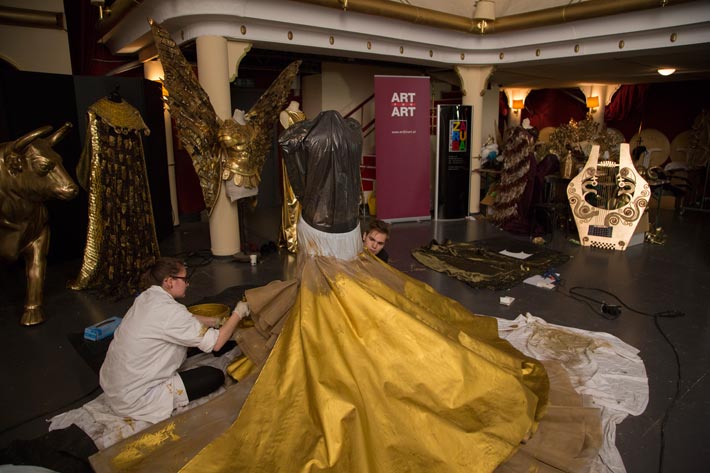 more culture>