Vienna Insight by Karin Sawetz, publisher Fashionoffice (12 November 2014)
Testing the extraordinary design of an office chair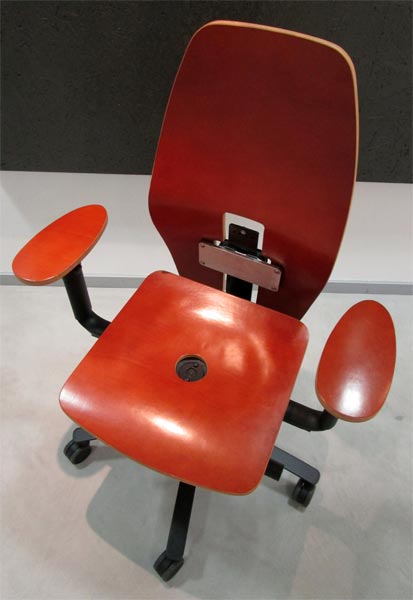 ...was the favorite activity during the press conference at the store of German furniture manufacturer Löffler in Vienna. I saw the wooden chair already at the company's news last month; I couldn't believe that it's comfortable. Japanese artist, architect Katsuhito Nishikawa designed the office chair NK 1 together with the table NK 2 exclusively for Löffler (both are on view on the first image in the middle column at the photos below).
Katsuhito Nishikawa's aim was to create a chair without any 'make-up' - the leather/wood chair is purely 'skin and skeleton'. And this absence of upholstering made me wonder how sitting on such a seat can be comfortable. Probably some of the other journalists had similar thoughts and so this chair became the most tested one (during the time I was attending the event). The chair is in its asceticism comfortable - not only because the form of the wood supports gently the posture; the contrast of the smoothness of the leather that covers the hard wood in combination with the chair's ergonomic mouldings and flexible seat cause a thrilling soft sitting comfort. The ergonomic construction was developed by Löffler and is patented under the name 'Ergo Top'. The office chair on the photos is covered with cognac colored leather; one of three colors alongside to black and nature. The NK 1 chair in skin-skeleton design by Katsuhito Nishikawa is nominated for the German Design Award 2015. The design of the NK 2 table is reduced to the requirements of today's technologies at offices such as notebooks and tablets.

At the column right, the first image shows fabric samples by the Austrian textile label Backhausen, and below, the (upholstered) office chair with 'Wave Circles' fabric designed by the Austrian architects Coop Himmelb(l)au for Backhausen. The 'Wave Circles' received the Red Dot Design Award 2014. (Fashionoffice reported about the collaboration between Löffler and Backhausen recently.)

At the column left, two of Löffler's stools are on view; the Ergo and the Fungo. The orange one, the Ergo, is now even part of my office and I have trained already the muscles of my back with the teetering seating (s)tool while writing this Vienna Insight.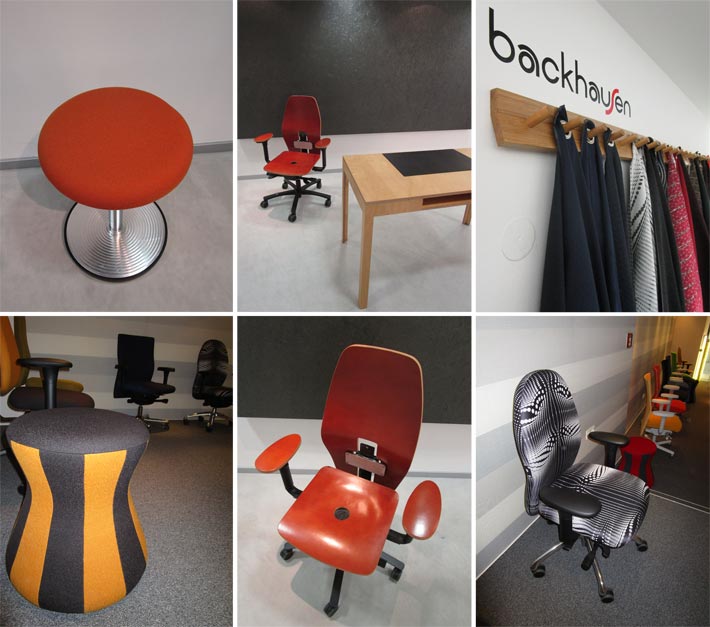 more culture>