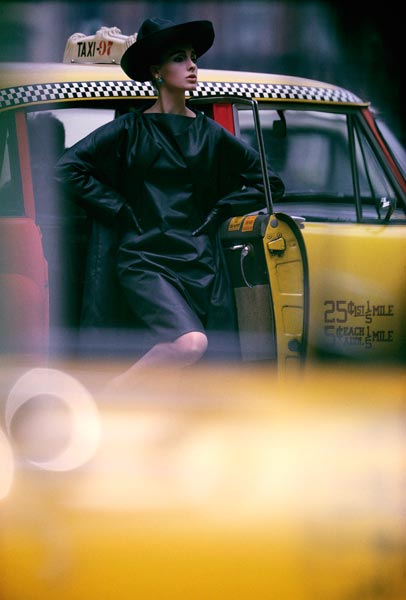 fig.: William Klein 'Antonia + yellow cab', New York, 1962; fashion photography for Vogue. Color print 50 x 40 cm. Collection William Klein. Photo provided by Schirn Kunsthalle Frankfurt on occasion of the exhibition 'Paparazzi! Photographers, Stars and Artists' from 27 June until 12 October 2014.
Paparazzi aesthetics' effects on art and fashion
From 27 June until 12 October 2014, Schirn Kunsthalle Frankfurt will explore the aesthetics of paparazzi images under the title 'Paparazzi! Photographers, Stars and Artists', the beginnings of the profession (which satisfies the people's lust for sensation, often at the legal limit; keyword 'privacy') and the effects on art where mass media are critically questioned and on fashion which uses the association with glam, 'importance' and authenticity. Some of the paparazzi-pictures at gossip or fashion columns are nothing more than materials by press agencies for the stars themselves or the fashion labels they wear.
At the end of May, Fashionoffice previewed some of Schirn's exhibition photos which reach from a picture of a photo journalist in a tree (from the 1930s) over Federico Fellini's 'La Dolce Vita' movie shot of celebrity photographers (which were named by the director for the first time 'paparazzi') to fashion images like the one on this page by William Klein.
The exhibition at Schirn is divided into three sections; first, the visitors will find out more about the work of paparazzi with equipment items such as camouflage for the photographers' secret shots or telescope lenses for far away observations. The second section centers around the relation between stars and paparazzi such as Marlon Brando and photographer Galella - last mentioned wears on the exhibited photo a football helmet as consequence of a previous encounter with the movie star. At this part of the exhibition, even the eco-system stars-paparazzi is a theme. At the third section, the effects of paparazzi aesthetics and the people's lust for sensation will be reflected with works by artists and fashion photographers.


more culture>