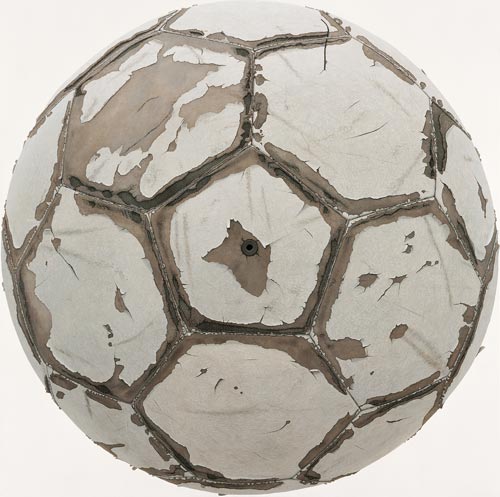 What's the aura of lifestyle goods?
The aura of everday objects is made of the signs of people's usage - the ones who 'play' with them and the ones who look at them.
This becomes obvious by viewing the photo-realistic paintings by German artist René Wirths whose oeuvre is currently on view under the title 'Out of the World' (since 13 July) until 9 November 2014 at Kunsthalle Krems Factory in Lower Austria. Even when René Wirths' lifestyle goods like a football, a Moto Guzzi motorcycle or the North-European painter tradition-like working artist's own analogous photo camera (he uses for his paintings no means like photography or projections - he transfers the color directly with the brush to the canvas) remind Marcel Duchamp's readymades, the messages of both artists can't be compared - they are much more a logical consequence: Marcel Duchamp's provocative 'Fountain' (an urinal) tells the viewer in Dada-tradition: "Piss on art!" (as protest against the art business) while René Wirths' work invite to step further into a world where aura is shared between (lifestyle good) designers, users and an artist; a view on aura as product of a community.
René Wirths was questioned in an interview "What is your personal philosophy?" (Translated from German; original interview on René Wirths' website; fast checked on 26 July 2014.) He answered with the citation of Goethe: "If you will feast on the whole, you must seek the whole in the smallest," and continued with his own words, "The universal is everywhere. I'm looking for it on a small scale, at the obviousness, at myself. I try to see my immediate environment once as it is, without evaluating it."
fig. above: 'Ball' by René Wirths, 2008. Privatsammlung (C) René Wirths, 2014. Courtesy Schönewald, Fine Arts, Düsseldorf. Photo: Jochen Littkemann.
fig. below: 'Kamera' by René Wirths, 2012. Privatsammlung, Schweiz (C) René Wirths, 2014. Courtesy Galerie Haas, Zürich. Photo: Eric Tschernow.