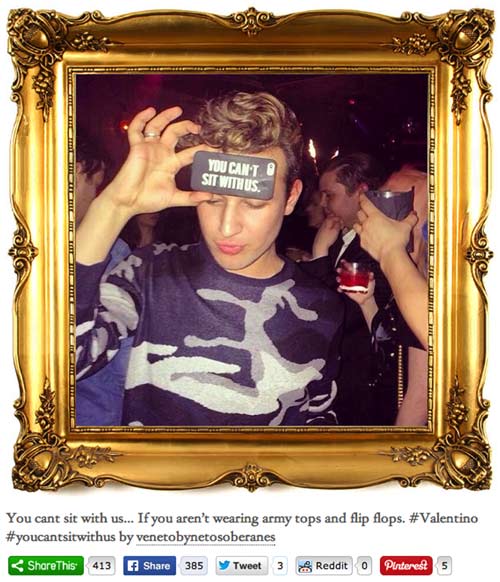 MKG Hamburg presents how richness and power are displayed via mass media
Today on 18 September 2014, Fashionoffice previewed some of the photos which will be part of the exhibition 'Rich Pickings. Displaying Wealth' from 17 October until 11 January 2015 at the MKG (Museum für Kunst und Gewerbe) in Hamburg.
Originally, the title of the exhibition is 'Fette Beute' (means in 1:1 translation 'Fat Prey') and transports in German language a cynical undertone about how the goods of wealth were acquired; it references a hunt after living beings.
The photos at MKG Hamburg's preview reach from historical glamour images (such as the one on this page, below right) over social-political views on the effects of power and richness on societies (especially Africa, picture below left) to contemporary representations of richness by amateur photographers on social media like on the image above right which was taken from the website "Rich Kids on Instagram". Last mentioned, is an example for the aspect 'fashion' as visual sign of the immaterial entities 'wealth' or 'power' and how modern mass media are used by users to put themselves on glamorous stage. The photo series of rich kids will appear at 'Born Rich' which is one of the six exhibition sections.
'Globalized Wealth' is another section at MKG Hamburg's review of how wealth is displayed; in this section, images like the one of Paolo Woods will show how wealth is displayed in various countries and how income influences people's self-presentation. Dutchman Paolo Woods' series 'La Chinafrique' (2007) displays with hierarchical poses the neo-colonial tendencies in Nigeria (image below left).
The section 'Die feine Gesellschaft' (means 'High Society'), delivers ironical views on balls, operas or horse racings with focus on the expensive clothes, hair style and jewellery of the protagonists of an expensive lifestyle. Swiss photographer Jakob Tuggener (1904 - 1988) captured high society's glitter as well as the excesses like the one from the 1930ies on the picture below; his images of escalating pleasures "can be read socially critical" such as MKG Hamburg notes in its press release.

fig. above right: 'Rich Kids of Instagram' You can't sit with us… If you aren't wearing army tops and flip flops. #Valentino #youcantsitwithus by venetobynetosoberanes. Blogeintrag vom 27.03.2014; (C) netobynetosoberanes.
fig. below left: 'Mr. Wood, Lagos, Nigeria' from the series 'La Chinafrica' by Paolo Woods, 2007. Archival Pigment Print auf Aluminium, 80 x 80 cm; (C) Paolo Woods/INSTITUTE. The image was delivered with following closer description: "Lagos, Nigeria, April 2007. Mr. Wood was born in Shanghai in 1948 and arrived in Nigeria at the end of the 70?s were he stared an industrial empire that includes today about 15 factories with more then 1600 workers, construction companies, hotels and restaurants. He is an official adviser to the president and has obtained the title of African chief and the authorization to use police cars as his own which helps in the monstrous Lagos traffic jams. He uses as well the police as private bodyguards, like here on the construction site of 544 villas built at record speed on the Lekki peninsula near the headquarters of the Chevron oil company."
fig. below right: 'Das Décolleté, Ungarischer Ball, Grand Hotel Dolder, Zürich' by Jakob Tuggener, 1935.
Silbergelatine-Print, 23,6 x 17,5 cm, Fotostiftung Schweiz; (C) Jakob Tuggener-Stiftung, Uster.