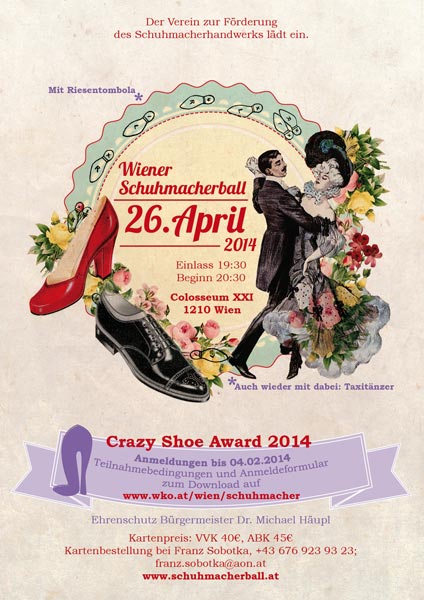 Shoemaker ball and Crazy Shoe Award in Vienna
On 26 April 2014, the Viennese shoemakers invite to the annual 'Schuhmacherball' - the 'Shoemaker Ball' - where the 'Crazy Shoe Award 2014' will go to crazy shoe creations by artisans and designers from all over Europe. The award is the annual prize by the Viennese association of shoemakers and orthopedic footwear manufacturers for fantastic but wearable footwear. Last year's creations are exhibited at the Wiener Schuhmuseum which is the city's destination for finding out more about historical footwear up to today's shoes and the techniques (machines, manufacturing tools) of shoemaking.
The 'Schuhmacherball' is organized by the Viennese association for the promotion of the shoemaker's craft.
fig.: Poster of this year's Wiener Schuhmacherball on 26 April 2014 at the Colosseum XXI (Sebastian-Kohl-Gasse 3-9) in Vienna. The poster shows red pumps, classical black men's shoes and a woman and a man - both are dressed in fashion from the late 19th century, who dance very probable a waltz. The ball will be held under the patronage of the mayor of Vienna Dr. Michael Häupl.

more culture>