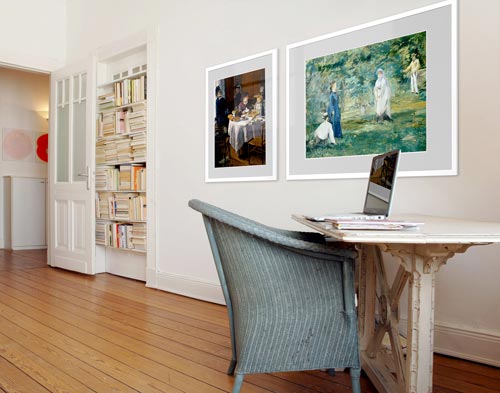 The idealized image of a woman by Botticelli
...seen at a new online photo print and framing service.
Today on 24 March 2014, the Städel Museum in Frankfurt (Germany) and the European beauty retail store chain dm-drogerie markt presented the collaborative online print and framing service. The digital art-for-home project started with 100 from over 100.000 artworks of the museum's collection.

Fashionoffice tested the service. The address dm.de/staedelmuseum leads to a gallery where paintings by prominent names like Toulouse-Lautrec or Monet are digitally exhibited. There are several images which show costumes, female beauties and lifestyle sceneries through the centuries. Fashionoffice selected Sandro Botticelli's 'Portrait of a Young Woman' (Wikipedia). The artworks are accompanied by descriptions. Botticelli's portrait is characterized as idealized depiction of femaleness of the late 15th century. Even the jewellery around her neck is mentioned as indication who the woman was; she was assumingly the mistress of Giuliano de' Medici. At the art-for-home service's product designer, the quality of photo paper, carrier material, frame, passe-partout and glass can be chosen. Fashionoffice's choice for Botticelli's portrait: 'Fine Art Print Struktur Matt' photo paper, for such a great image the biggest size 100x150 cm (original dimension of the painting 82×54 cm), framed by black lacquered wood with narrow black passe-partout. In sum, the framed photo print in this size and chosen materials costs more than 500.- Euros; this is not really low for a copy. But the service calculated automatically the lowest price for size/material after entering the product designer: Botticelli as 20x30 cm print without frame is already available for affordable 8,95.- Euros.
fig.: Städel Museum Frankfurt and dm-drogerie markt started on 24 March 2014 the collaborative art-for-home photo print and framing service on dm.de/staedelmuseum. Photo: dm-drogerie markt.


more culture>