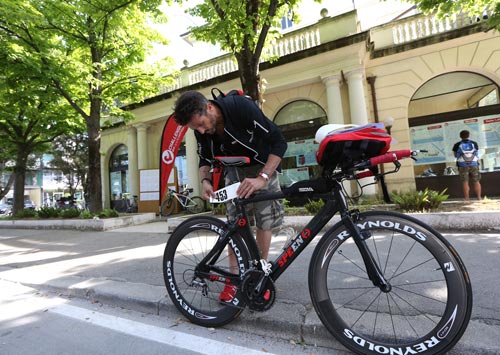 Trend sport triathlon impressions from Italy
On 12 May 2014, Fashionoffice received impressions from last weekend's triathlon challenge in Rimini, Italy. The combination of cycling, swimming and running belongs to the current trend sports; probably because it is interesting for both, men and women (one of the rare sports with competitions that allow mixed gender teams) and it offers age-specific challenges for children (article).

Well, the competition rules alter with each destination - even Rimini has its own; but one of the central attractions of this sport is the environment which plays the main role during the courses. Rimini's courses run on roads which where once built by Roman emperors, along fortresses and castles through Emilia Romagna, through historic towns like Coriano or Monte Cerignone and back to the Adriatic Sea to Rimini which is one of the most popular beach resorts at the Adriatic. Cineastes might associate Rimini also with Italian director Federico Fellini who was born there and incorporated the experiences he made during youth into his films.

fig. above: A race participant sticks his number to his bike ahead of the Challenge Triathlon Rimini on 10 May 2014 at a boulevard in Rimini, Italy. Below, from left: Participants cycle through Monte Cerignone during the cycle leg during the competition on 11 May 2014. The image right shows participants who enter the Adriatic Sea to begin the swim leg during the Challenge Triathlon Rimini on 11 May 2014 at the beach of Rimini.
Photos by Charlie Crowhurst/Getty Images for Challenge Triathlon; (C) 2014 Getty Images.