Oil, gas, power provider OMV presents art under the title 'Dialog: New Energies'
...from 2 to 5 October 2014 during Viennafair in Austria's capital city. Since 2011, OMV is one of the collaborative partners of Viennafair. This year, the OMV art initiative 'Dialog: New Energies' focuses on the Romanian art and culture scene of the last fifty years.
In late August 2014, Fashionoffice looked through the preview images of the artworks which will be on view in early October in Vienna: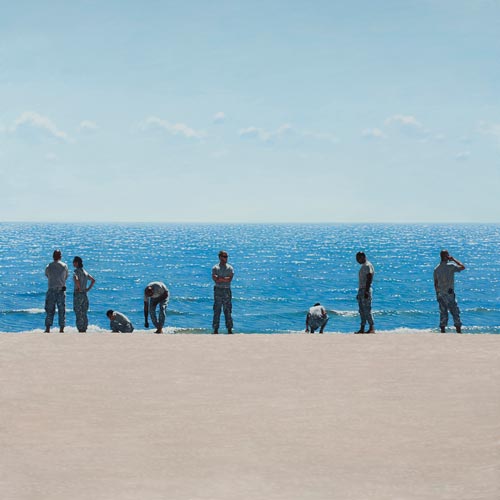 The works range from installations to oil on canvas paintings such as the one by Roman Tolici who uses new as well as the old masters (Renaissance) techniques for depicting sceneries of nowadays. Tolici's image 'Eight' on this page (right) is from the 'Honey'-series about personal tracks and "the content of life of each individual in itself" such as it is explained at the website of Zorzini Gallery which collected the works of several artists for Viennafair in early October.
Represented by another gallery, the Anaid Art Gallery, are the installations by Matei Arnăutu who incorporates everyday objects which carry the artist's subjective history. The image (below) of the installation 'Life' shows a red cross made from glasses which are filled with a red fluid.
fig. above: 'Eight' by Roman Tolici, 2010. Oil on canvas, 180 x 180 cm. Courtesy Zorzini Gallery, Bucharest.
fig. below: 'Life' by Matei Arnăutu, 2012. Installation. Courtesy Anaid Art Gallery, Bucharest.
Photos provided by w.hoch.2wei. Kulturelles Projektmanagement on occasion of OMV Special Project 'Dialog: New Energies' at Viennafair (2 - 5 October 2014).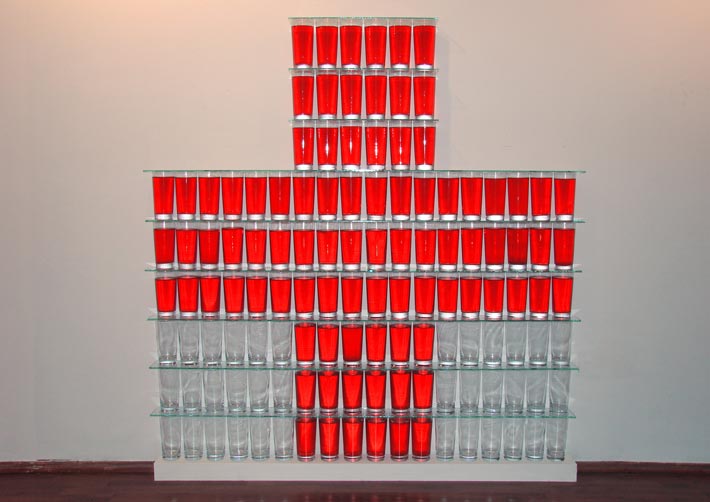 more culture>