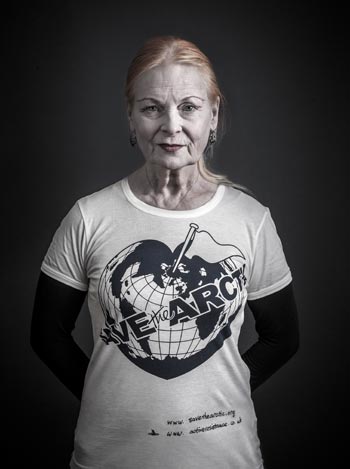 Photo series with celebrities in Vivienne Westwood x Greenpeace t-shirt
On 10 February 2014, director and actor George Clooney was the first celebrity who appeared in the 'Save the Arctic' t-shirt with logo-design by Vivienne Westwood on the Greenpeace Facebook page (embedded post below). Currently, Clooney's 'The Monuments Men' is probably the most bespoken movie in media and applies this way special media dynamic to the campaign 'Save the Arctic'. Clooney saves art in the new movie and for Greenpeace he fights (in superhero pose) for the preservation of nature, the homeland of several million people who live there and the climate on earth.
fig.: Vivienne Westwood with Greenpeace t-shirt. Her logo for the 'Save the Arctic'-campaign shows the earth in heart form. Photo: Andy Gotts MBE, (C) Andy Gotts, 2013.