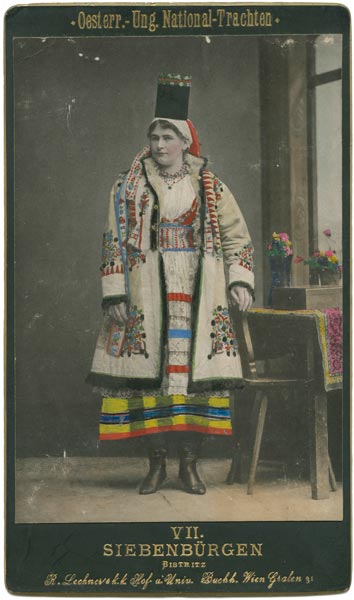 How photography makes opinion on the example of costume images from the Habsburg monarchy
...especially during Austro-Hungarian Empire (1867 - 1918) is questioned at the upcoming exhibition 'Gestellt' at the Volkskundemuseum (Austrian Museum of Folk Life and Folk Art) from 30 April until 30 November 2014 in Vienna.
Annotation on 25 Nov 2014: Finissage and presentation of the catalogue on 28 November 2014.
The title 'Gestellt', translated 'Posed' in the meaning of staged or contrived, references photography during the Habsburg monarchy as tool to depict ethnicities, such as here on view on this page a woman in the traditional costume of Siebenbürgen or Transylvania (today Romania): leather boots, white coat with colorful flower embroideries, white dress consisting of blouse, corsage and skirt which shows lace flounces and rainbow colored ribbons, on her head a high hat. The photo was 'staged' by costume painter Franz Gaul and photographed by Josef Löwy in Vienna. The image is one of a series which was taken between the years 1881 and 1890. The Volkskundemuseum collection contains thousands of such photographs which were used to categorize people. But these photos were also used by the public to get impressions of the fashion and culture of others who lived far away in foreign regions of the monarchy - despite, the photos are as already mentioned 'posed' (the woman stands in a studio in Vienna) and not 100% witnesses of the culture of living in Siebenbürgen (Transylvania). At the exhibition 'Gestellt', the creation of the posings will be questioned and set into relation with the political and social formation of nationalities. Visitors are invited to train their consciousness of the creation and the power of images on opinion concerning both, our views on the present as well as the past.
fig.: Staged portrait of a woman in traditional costume of Siebenbürgen (Transylvania), today Romania; Siebenbürgen was part of the Austro-Hungarian monarchy. Photo: Oesterreichisch-ungarische National-Trachten: Siebenbürgen, Bistritz | Josef Löwy, inszeniert durch den Kostümmaler Franz Gaul | Wien | 1881–1890. Provided on occasion of the exhibition 'Gestellt - Fotografie als Werkzeug in der Habsburgermonarchie' at Volkskundemuseum, 30 April - 30 November 2014; the exhibition will open at 18:00 on 29 April 2014 at the Gartenpalais Schönborn in Vienna.


more culture>